Chinese Reporter Freed After Pleading Guilty in Secrets Case
Bloomberg News
Gao Yu granted medical parole after court reduces sentence

Supporters credit leniency move on international pressure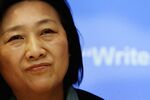 A Chinese journalist whose conviction for leaking secrets drew an international outcry has been released on medical parole after agreeing to quit fighting the charges and plead guilty.
Gao Yu, 71, was freed by Beijing's Third Intermediate People's Court on Thursday after an appeals court reduced her sentence to five years from seven years, according to her lawyers and the official Xinhua News Agency. The moves followed Gao's decision to plead guilty during an appeal of the verdict handed down in April, said Mo Shaoping, one of her lawyers. She spent more than a year in custody.
"Allowing Gao to serve a reduced sentence outside prison, though a relief for her, does not take away the glaring fact that her prosecution was a politicized use of the law to punish speech," said Sharon Hom, executive director of the advocacy group Human Rights in China.
Gao was detained in April 2014 during a crackdown on dissent in the run up to the 25th anniversary of the Tiananmen Square massacre, drawing protests from U.S. officials and human rights groups. She was accused of providing a document detailing a Communist Party campaign against Western liberal ideas to an unidentified overseas website.
Gao denied the charges during a secret trial last November, after making a televised confession her lawyers said came under duress. On Thursday, the Beijing Higher People's Court reduced her sentence after "she confessed her crimes, pleaded guilty and repented her wrongdoing," according to Xinhua.
"The court accepted Gao Yu's appeal that the first verdict was too harsh," Mo said. "It's a good result overall and she deserves to be released."
International Pressure
Gao's sentencing came amid a push under President Xi Jinping to tighten control over the press and step up curbs on the Internet and other venues for dissent. The government has since detained other lawyers and rights advocates accused of disrupting public order and trying to sway court decisions.
Shang Baojun, another of the lawyers, said that international support had contributed to the court's decision to reduce Gao's sentence. In September, Samantha Power, the U.S. ambassador to the United Nations, cited Gao's case as an example of continued violations of women's rights in China.
Willam Nee, a China researcher for Amnesty International, called Gao's release "wonderful news" and the result of the work of her lawyers and the international community.
"At the same time, she will most likely be subjected to surveillance, a lack of freedom of movement, or even some sort of house arrest," Nee said. "So, it will be important to continue to monitor her situation."
Gao was sentenced to six years in jail in 1993 on similar charges. She was released early for medical reasons.
— With assistance by Keith Zhai
Before it's here, it's on the Bloomberg Terminal.
LEARN MORE