Cameron Urges Syria Strikes to Counter Islamic State Threat
by and
Premier outlines case for bombing in reply to lawmaker panel

Vote may depend on whether Labour Party can agree on position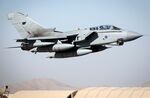 David Cameron appealed to lawmakers to back his calls for British airstrikes in Syria, saying Islamic State poses an "urgent" threat that will intensify the longer the organization is allowed to grow.
The prime minister addressed Parliament on Thursday, setting out his case for action against the terrorist group, also known as ISIL, in the wake of the attacks on Paris and following progress at Syrian peace talks in Vienna. If the government believes it has enough support, Cameron has suggested he wants to call a vote in the House of Commons next week.
"We shouldn't be content with outsourcing our security to our allies," Cameron told a packed Commons chamber in London. "If we believe that action can help protect us, then we should be with our allies. If we won't act now, when our friend and ally France has been struck in this way, then our allies in the world can be forgiven for asking: 'If not now, when?'"
Whether he calls a vote depends now upon the response of the opposition Labour Party, which was thrown into chaos by his statement. After a meeting of the Shadow Cabinet, the party's foreign-affairs spokesman, Hilary Benn, said there's a "compelling argument" for action. An hour later, the party leader, Jeremy Corbyn, wrote to Labour members of Parliament saying the opposite. Labour will meet again on Monday to try to reach agreement.
"All of us agree on the threat to the U.K.," Benn told the BBC. "Of course we have to see the motion the government will finally table, but I am in favor of taking action that is effective in ending that threat."
Corbyn Doubts
Corbyn, who along with Benn was briefed by Cameron's national security adviser on Wednesday evening, continued his career-long objection to British military action abroad.
"The issue now is whether what the prime minister is proposing strengthens, or undermines, our national security," he wrote to lawmakers, in a letter released by his office. "I do not believe that the prime minister today made a convincing case that extending U.K. bombing to Syria would meet that crucial test."
The vote presents a dilemma for Corbyn. While many of his members of Parliament have expressed support for bombing in recent days, he would be attacked by his core supporters if he agreed to back the plan himself. If he tells his party to vote against, he risks a large rebellion, while offering his lawmakers a "free vote" in line with their consciences would effectively be saying that Britain's main opposition party has no position on a major issue of foreign policy.
'Top Tier'
In the chamber, Corbyn had questioned whether involvement in attacks would increase the risk of Islamic State attacking Britain. Cameron replied that the intelligence advice was that the U.K. was already in the "top tier" of the extremists' target list.
The prime minister's formal reason for speaking was to respond to a Nov. 3 report from the Commons Foreign Affairs Committee, which said Britain should only take part in attacks in Syria if there's a "coherent international strategy." That report, from a panel on which the Conservatives have a majority, was a warning of the doubts many in Parliament have about strikes.
Assad Misunderstanding
Before he spoke, Cameron published a 36-page response to the report. It said calls to seek an alliance with Syrian President Bashar al-Assad's regime -- a solution favored by Russia -- "misunderstands the causes of the problem and would make matters worse. By inflicting brutal attacks against his own people, Assad has in fact acted as one of ISIL's greatest recruiting sergeants."
His response conceded there is "no prospect" of an external ground force intervening. Cameron pointed to both the Free Syrian Army and the Kurdish Peshmerga as forces that are able to take and hold territory. "We're not talking about British forces" on the ground, the prime minister said.
Answering the question of "why us?" Cameron pointed to the specific capabilities of Britain's Tornado fighter-bombers. Their Raptor reconnaissance pods are able to gather intelligence and identify targets, while their Brimstone precision missiles strike with reduced civilian casualties, he said.
Foreign Affairs Committee Chairman Crispin Blunt told the chamber he now believes Britain's interests would be best served by joining airstrikes.
'Strong Case'
The response inside the chamber was not clearly along party lines. Julian Lewis, the chairman of the Commons Defence Committee, was one of a number of Conservatives expressing skepticism about Cameron's suggestion that there were 70,000 moderate opposition troops in Syria. On the opposition Labour side, Yvette Cooper, one of the unsuccessful candidates for the party leadership, said the prime minister had "made a strong moral and legal case" for action.
When Cameron last asked Parliament to back attacks on Syria, in 2013, he lost the vote, a historic defeat for a British prime minister. That was for proposed strikes against Assad's forces. A year later, when he returned seeking permission to attack Islamic State, he restricted his proposal to striking the group in Iraq, which had requested support. Lawmakers gave their backing to that limited move.
This time, the prime minister said he isn't going to risk defeat. "There will not be a vote in this house unless there is a clear majority for action, because we will not hand a publicity coup to ISIL," he said. His spokeswoman, Helen Bower, told reporters afterward there's "no timetable."


Before it's here, it's on the Bloomberg Terminal.
LEARN MORE