Cameron to Urge U.K. Parliament to Back Airstrikes in Syria
by
Prime minister will set out case for extending bombing

Vote might split both Conservative and Labour parties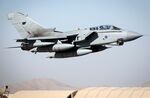 Prime Minister David Cameron will urge Parliament to back his plan to extend  British bombing attacks on Islamic State into Syria from Iraq, a move that is likely to split both his Conservative Party and the opposition Labour Party.
Cameron will address lawmakers on Thursday morning to set out his case for action against the terrorist group, also known as ISIL, in the wake of the attacks on Paris and following progress at peace talks in Vienna. He will be hampered, though, by Turkey's shooting-down of a Russian fighter jet on Tuesday, which highlighted the complexity of Syria's civil war.

"There is a clear and present danger to the United Kingdom from ISIL, based in Iraq and Syria, planning attacks against our country today," Cameron told the House of Commons at his weekly question time on Wednesday. "One of the lessons I would say we should learn from the last century is that when your country is under threat, and when you face aggression against your country, you cannot endlessly sit around and dream about a perfect world -- you need to act in the world we are in."
The prime minister's formal reason for speaking is to respond to a Nov. 3 report from the Commons Foreign Affairs Committee, which said Britain should only take part in attacks in Syria if there was a "coherent international strategy." That report, from a panel on which the Conservatives have a majority, was a warning of the doubts many in Parliament have about action.
Historic Defeat
Cameron has said he will address the committee's objections point by point, with a view to calling a vote next week. When he last asked Parliament to back attacks on Syria, in 2013, he lost the vote, a historic defeat for a British prime minister. That was for proposed strikes against the forces of President Bashar al-Assad. A year later, when he returned seeking permission to attack Islamic State, he restricted his proposal to attacking the group in Iraq, which had requested support.
The prime minister will argue that a series of things have changed: the attacks on Paris and the bombing of a Russian passenger jet over Egypt's Sinai peninsula have highlighted the threat of Islamic State; the United Nations Security Council agreed a resolution calling for action against the group; and the talks in Vienna have set out a possible path to a peace deal in Syria.
The vote will present a problem for Labour leader Jeremy Corbyn, who has a long history of opposing British military action. Many of his members of Parliament have expressed support for bombing in recent days. If he agrees to back the plan himself, though, he will be attacked by his core supporters. If he tells the party to vote against, he risks seeing a large rebellion. And if he offers his lawmakers a "free vote" in line with their consciences, he will be effectively be saying that Britain's main opposition party has no position on a major issue of foreign policy.
"The challenge for the prime minister is to demonstrate that any proposed British military action against ISIL in Syria is framed within a wider strategy," Dan Jarvis, a Labour lawmaker who's a former British Army officer, said in an e-mailed statement. "He must also show that there is a diplomatic process that could lead to a political settlement in Syria, take action to cut off ISIL's funding, provide assurances that post-conflict reconstruction is not being treated as an afterthought, and take steps to tackle extremism here at home."
Before it's here, it's on the Bloomberg Terminal.
LEARN MORE