BTG's Arida Said to Tell Clients Business as Usual at Rio Event
by
Interim CEO said he expects Esteves arrest resolved: People

BTG's Arida said to show support for Brazil anti-graft drive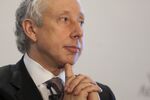 Grupo BTG Pactual's interim chief executive officer told clients on Wednesday that the investment bank was operating normally and he expects the arrest of Chairman Andre Esteves to be resolved quickly, said three people present at an event the bank held in Rio de Janeiro.
Persio Arida also told a crowd of about 400 that a widening corruption investigation is improving the country, the people said. Arida made his comments at the beginning of a conference on the outlook for the Brazilian and global economies that was organized before police detained Esteves for allegedly attempting to interfere in testimony related to a pay-to-play scheme at the state-run oil giant, Petroleo Brasileiro SA.
BTG Pactual lost more than a fifth of its stock market value and saw its financing costs double in debt markets after its billionaire founder and chairman was arrested. Delcidio Amaral, the leader of the government coalition in the Senate, was also arrested on Wednesday as part of the widening probe. The high-profile arrests usher in a new phase of the scandal that has crippled Brazil's economy and left President Dilma Rousseff fighting for her political survival.
An outsourced spokesman for BTG, who was at the event, declined to comment on what Arida said when asked by Bloomberg. Esteves denied any wrongdoing through his lawyer on Wednesday. The lender also said the board approved on Wednesday a plan to buy back as many as 23 million units over the next 18 months, according to a regulatory filing.
Before it's here, it's on the Bloomberg Terminal.
LEARN MORE