BTG CEO's Arrest Triggers Big Question: How Much Cash Will Flee?
By , , and
Less than quarter of assets funded with equity, long-term debt

High-ranking BTG official says withdrawals have been small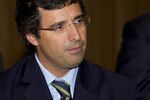 Within hours of the arrest of BTG Pactual Chairman and Chief Executive Officer Andre Esteves on Wednesday, the bank's stock was down as much as 39 percent and the bonds 20 percent.
The rationale behind that initial panic was this: Without Esteves, the billionaire executive who's widely considered to be one of Brazil's most-talented bankers, BTG's creditors could bail. And with only 23 percent of its funding coming from equity or long-term debt, some investors worry that a big chunk of money could vanish fast and sink the firm into a paralyzing liquidity crunch.
"What kills banks are runs and people moving their money very quickly," said Ray Zucaro, chief investment officer of RVX Asset Management. "Liquidity can dry up overnight, so yes, it's a real concern."
Such events are extremely rare for large firms, and BTG's stock later recovered much of its loss. A high-ranking BTG official, who asked not to be identified speaking about internal operations, said that while the bank had some investor withdrawals, it was less than 1 percent of total assets. The bank is also preserving a strong cash position to ensure liquidity, the person said.
Still, it all marks a breathtaking challenge for a high-flying firm whose top executive famously joked that BTG stands for "better than Goldman" and shows that the corruption scandal that has rocked Brazil's political and business elite and crippled the economy is far from over. Political-risk consulting firm Eurasia Group says Esteves's arrest on suspicion he tried to interfere with testimony of a jailed former executive of the state-run oil giant for the first time raises the "earnest prospect of financial contagion."
Denies Wrongdoing
Esteves, through his lawyer, denied any wrongdoing. BTG Pactual said in an e-mailed statement that it is cooperating with the investigation and is willing to explain whatever is necessary to authorities.
BTG relies on borrowing to fund almost 93 percent of its 302.8 billion-real ($80.8 billion) balance sheet, according to third-quarter financial statements on the company's website. Total shareholder equity represented only 22 billion reais of that, making the price of borrowing a key issue.
After Wednesday's rout, BTG's benchmark five-year bonds are yielding 12.3 percent, a level that puts it in line with junk-rated issuers. That's almost double the yield a day earlier, when the notes traded 3 percentage points below the average for Brazilian corporate debt. Shares have plunged 23 percent in two days.
BTG's ratings were put under review for a possible downgrade by Moody's Investors Service and Fitch Ratings.
"While the situation remains in flux, Moody's believes these events, the outcome and timing of which are highly uncertain, could have negative implications for the firm's franchise, which is dependent on market funding," Moody's, which rates the lender at the lowest investment grade level, wrote in a report late Wednesday.
"The bank's image has been damaged," said Max Bohm, an analyst at Sao Paulo-based consulting firm Empiricus Research. He said he's concerned that clients could be pulling their money from the bank.
BTG is "operating normally in the markets," an official from Brazil's central bank said in an e-mail. Officials are monitoring the impact of the arrest on the lender and asking for additional information.
At least a third of the bank's liabilities are short-term obligations. Almost 74 billion reais is in the form of demand deposits that can be withdrawn in 90 days or less. The rest are repurchase agreements, known as repos, a type of financing between banks in the interbank market using government bonds as guarantees.
The company also had cash and cash equivalents of 40.9 billion reais as of Sept. 30, up from the 10.3 billion reais in the previous quarter, financial statements show.
Credibility 'Key'
While prosecutors haven't released specifics about why Esteves and a leading politician who was also arrested Wednesday would have wanted to suppress the testimony, BTG has been involved in various deals over the years with Petrobras, the state-run oil producer at the center of the sweeping pay-to-play scheme. The most notable investment is Sete Brasil Participacoes SA, the embattled rig supplier also ensnared in the scandal.
While BTG almost doubled profit in the third quarter to 1.51 billion reais, its merchant banking unit posted a 448 million-real loss due mostly to provisions in investments made in the oil and gas industry. The firm's Nov. 5 earnings report didn't elaborate on those losses. The company also has stakes in Brasil Pharma SA and Banco Pan SA, whose shares have tumbled 90 percent and 36 percent, respectively, in the past year.
"Credibility is the key word for them," said Reginaldo Galhardo, a foreign-exchange manager at Treviso Corretora de Cambio in Sao Paulo. While the bank has a cash position that provides a cushion, "the worst thing that could happen is people withdrawing money all of a sudden."