Brussels Terror Threat Level Cut as Police Raids Continue
by and
City no longer under `serious and imminent' threat of attack

Troops to remain on streets, in subway and at school gates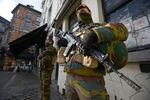 Authorities removed Brussels from the maximum terror-threat level that has kept the city on edge since last weekend as Belgian police continued raids at homes across the country.
The capital is no longer facing an "imminent threat," Prime Minister Charles Michel told reporters in Brussels on Thursday evening. Still, he said that the cut to level 3 -- the same as the rest of the country -- shows the risk of a terror attack "remains serious."
The Brussels subway will be fully re-opened starting Friday morning and major events will be allowed on a "case-by-case basis," Michel said. Troops and police will continue to patrol the streets and schools as the security measures are "progressively" scaled back, he said. Only 35 of 69 metro stations were re-opened on Wednesday.
Michel refused to say why the risk level was lowered, and prosecutors earlier gave no indication of a breakthrough in the hunt for Salah Abdeslam, the man suspected of links to the Nov. 13 attacks in Paris.
Potential Plots
Belgian Justice Minister Koen Geens told RTBF television on Friday morning that he could not elaborate on the reasons why the terror threat was reduced, nor could he give an update on the status of investigations into potential plots.
"There is obviously a link between the inquiry and the threat level," he said. "But it's not just the state of the inquiry which justifies a certain threat."
Abdeslam is probably getting help from others as he continues to evade arrest, Geens told VTM late Thursday. "If someone is on the run on his own, he is caught quickly, while it is tougher to find someone who is not alone," he said.
The government warned last weekend that Brussels was under threat of an immediate attack on multiple targets. Authorities closed schools, shopping centers and the subway network, advised cafes to shut early and told people to avoid large gatherings.
'Necessary Composure'
The government is aiming for a quick return to normal life, Michel told lawmakers in parliament earlier on Thursday. The government's actions last weekend were critical, he said.
"We acted immediately, without delay, with the necessary composure," Michel said. "We will not choose between freedom and security."
Belgium has charged five people with terror offenses since the Nov. 13 assaults in the French capital that left 130 people dead. Belgian authorities announced a manhunt on Tuesday for another suspect, Mohamed Abrini, who was seen driving a car between Brussels and Paris with Abdeslam two days before the Paris bloodbath. They described Abrini as "dangerous and probably armed."
Counter-terror raids continued on Thursday. Belgian prosecutors said nobody was detained after searches in Auvelais, south of Brussels, or in Verviers, near the German border.
Before it's here, it's on the Bloomberg Terminal.
LEARN MORE