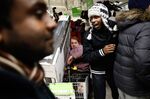 Last year, British retail chains embraced Black Friday as a way to get a jump-start on the holiday shopping season. What followed was, as the Brits would say, a shambles: Bargain hunters fought over cut-price televisions and handbags, damaging retailers' profitability, not to mention the long-held image of British civility and restraint.
Now, retailers are following a different tack. Some are simply abandoning the shopfest. Others will still do Black Friday, despite the frenzy, because shoppers will be buying. In October, the number of Google searches in the U.K. for Black Friday as a share of all searches was more than three times higher than a year earlier. But the day will be a bit more subdued. More refined. More, well, British.
Walmart's Asda chain was among the first British merchants to adopt Black Friday in 2013, and it's leading the retreat. Its decision to drum up publicity at one London store last year backfired spectacularly when camera crews filmed hordes of shoppers barging through the doors and fighting over an inadequate number of cheap smartphones and video games. To prevent a repeat of the unseemly drama, Asda canceled Black Friday this year and will spread its discounting from November into January. "Black Friday in its current guise has gone," says Asda Chief Executive Officer Andy Clarke. "It will be interesting to see how many retailers continue it next year."
By embracing the Black Friday holiday, retailers such as Asda and the John Lewis department store chain threw the U.K.'s holiday shopping calendar into disarray. Traditionally, heavy discounting took place in Britain only after Christmas—coinciding with the country's Dec. 26 Boxing Day holiday—allowing merchants to enjoy weeks of full-priced sales in the runup. But Black Friday dangled deep discounts a month before Christmas, making it difficult to raise prices back to normal levels in December. "It's so destructive because of its timing," says Richard Hyman, an independent retail analyst. "It's one of the most damaging things that's been introduced into U.K. retailing for years."
Argos, the chain that introduced catalog shopping to the U.K. in 1973, is also backing away from the Black Friday scrum. To entice customers to shop on other days—and spare its online systems from being overwhelmed by a surge of orders as they were on Black Friday in 2014—Argos has been offering discounts every Friday this November, as well as free same-day delivery on purchases of £50 ($76) or more.
Last year, the online stampede of Black Friday bargain hunters left some retailers' websites, including those of Tesco and Argos, struggling to cope. So caution has become the watchword for merchants this holiday: Electronics retailer Dixons Carphone, for one, began stress-testing its website the day after Black Friday last year.
---
Gearing Up For Black Friday

Photo Story: Take a Look Inside Amazon's Hemel Hempstead, U.K. fulfillment center.
---
Retailers know that taking orders they can't deliver hurts their reputations, especially when Amazon.com—which now offers a one-hour delivery service to some Prime customers in the U.K.—is raising expectations ever higher. With more than 7,000 deals planned for this Black Friday, the e-tailing giant said the event may well be its biggest U.K. shopping day ever. Shoppers seem keen, too; researcher ICM Unlimited found 75 percent of British Black Friday bargain hunters plan to buy from Amazon.
Black Friday is less of a headache for many online-only merchants, because their distribution systems are often better suited to cope with spikes in demand. The financial damage from discounting is also mitigated by their lower relative tax burden: Property taxes are more than twice as onerous as U.K. corporate taxes for the nation's largest physical store-based retailers.
Traditionalists argue that the Brits shouldn't bother with the American import in the first place. After all, they don't even celebrate Thanksgiving. "Black Friday is completely illogical in the U.K.," says Richard Perks, an analyst with market researcher Mintel. "It's pretty pointless."
The bottom line: Some of Britain's brick-and-mortar retailers are dropping Black Friday. But Google searches there about the shopfest are up threefold.
Before it's here, it's on the Bloomberg Terminal.
LEARN MORE