Adele's `25' Sets One-Week Sales Records in U.S. and Canada
by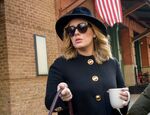 Adele sold at least 2.8 million copies of her new album "25" in the first five days of U.S. release, setting a record for the first week and making it the best-selling album of the year, according to Nielsen Music.
The U.S. results include 1.45 million digital sales at online retailers like Apple Inc.'s iTunes, Nielsen said. "25" has also sold 261,000 units in Canada, the most ever after four days of release in that country.
The first week of sales will end late Thursday, giving "25" time to build on its lead over the previous single-week record holder, NSync's "No Strings Attached," which sold 2.42 million copies in March 2000. That album came out before streaming services like Spotify took hold with listeners and began cutting into sales of CDs.
Adele and her record company, Sony Music, decided not to release "25" on streaming services like Apple Music. Keeping it off of those services, which pay less than outright sales, has worked. Fans are pushing sales of the album to a record, smashing estimates which ranged as high as 2.5 million units the first week.
Before it's here, it's on the Bloomberg Terminal.
LEARN MORE