Volkswagen Told to Prepare Recall Plan for 3-Liter Diesel Models
by , , and
California board gives automaker 45 business days to comply

Regulator says recall must cover VW, Audi, Porsche models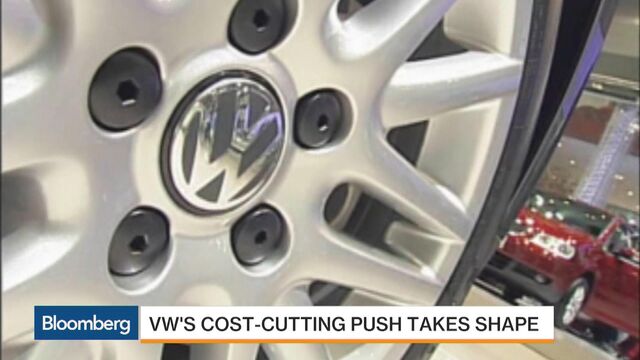 Volkswagen AG was given 45 days to plan a recall of models with 3.0-liter diesel engines found to contain software that California regulators consider a possible "defeat device" that can distort emissions tests.
The California Air Resources Board is demanding the fix for VW, Audi and Porsche models from the 2009 model year on, the agency said Wednesday in a statement. VW's Audi brand already said earlier this week it would resubmit a revised version of the software, which it hadn't originally disclosed for regulatory review.
Audi told regulators the device played a role in changing how the vehicles operate during emissions testing, but stopped short of saying it cheated in the same way that Volkswagen has admitted to using software to rig tests for its smaller diesels. However, CARB is treating the 3.0-liter software device as if it cheated on the test, said Dave Clegern, an agency spokesman.
The 3.0-liter diesel discussion is part of Volkswagen's effort to address its emissions scandal on three fronts: cheating software installed in about 11 million vehicles worldwide with 1.2-, 1.5- and 2.0-liter engines; irregular carbon dioxide ratings on about 800,000 vehicles; and the questionable software in larger diesel engines in the U.S. The company said this week it's nearing approval to repair most of the rigged engines in Europe, by far the biggest market in which Volkswagen's dirty diesels were sold. 
The shares extended their longest streak of gains since September 2010, climbing 4.7 percent to 125.95 euros at 9:26 a.m. in Frankfurt. Volkswagen has lost more than 10 billion euros ($10.6 billion) in market value since its emissions scandal broke on Sept. 18.
Managing Emissions
The software in the 3.0-liter engines wasn't designed to cheat, Audi spokesman Udo Ruegheimer said in a phone interview. Many cars have devices that change the way engines perform and manage emissions for different kinds of driving, and that's legal, he said. In this case, the software managed temperatures of the exhaust-cleaning system to account for the fact that engines are colder shortly after starting, Ruegheimer said.
Audi, which made the engines for its vehicles as well as for Porsche and VW, will be discuss this with CARB over the next 45 days, he said.
The fix for 85,000 Audi, VW and Porsche cars with the 3.0-liter diesels is expected to cost roughly 50 million euros. The larger engine is used in the Audi A6, A7 and A8 sedans; Q5 and Q7 sport utility vehicles; and the Porsche Cayenne and VW Touareg SUVs.
Clegern said the device in the 3.0-liter engines has a timer that shuts it off shortly after the test cycle used to make sure the vehicle's emissions meet clear-air rules. That's one reason CARB thinks the software was designed to cheat, he said.
When regulators first disclosed the issue with the larger engines in early November, Volkswagen said they didn't have a software cheat like the smaller diesel motors did. Then Audi in a Nov. 19 meeting admitted to using Auxiliary Emissions Control Devices in the 3-liter engines that were not disclosed to the California agency, according to a letter dated Wednesday from CARB to VW, Audi and Porsche. That is a violation of law, according to the letter.
The U.S. Environmental Protection Agency said in an e-mailed statement Wednesday that it continues to work closely with the California board on issues with the 3.0-liter engines.
Before it's here, it's on the Bloomberg Terminal.
LEARN MORE