UMich Survey Director: We're Witnessing the Decline of American Economic Aspirations
Low growth, low expectations.
by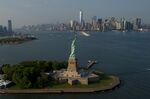 While U.S. consumers are more optimistic about the outlook for the economy and their personal finances than they were in the aftermath of the housing bust, their confidence doesn't measure up to previous cyclical peaks:

November's final reading of the University of Michigan's index of sentiment came in at 91.3, a slight gain from October's print, but fell relative to the initial report for the month. A separate release showed the U.S. savings rate climbed to 5.6 percent in October to hit its highest level in nearly three years.
On a conference call following the release of this report, the director of the survey, Richard Curtin, told Bloomberg Intelligence Chief Economist Michael McDonough this relatively subdued confidence and high savings rate reflect the notion that future generations might not see an increase in their standard of living:
I think this is tied to a decline in economic aspirations. They don't expect to be in a situation where they once thought it was their right—that their living standards would always increase, their children would be much better off than they, and their grandchildren and so forth, and they bought things on credit with the intention of working more to pay off the increased debt, and we saw a rise in labor force participation and a rise in women entering the labor force and so forth …I'm not trying to say that the data predict this sort of secular stagnation, but it is now more consistent with the slow-growth economy, and I'll just give you this thought experiment: If we only grow at the 2 to 3 percent range over the next decade, well we've only have 2 percent growth over the past five years average, people cannot maintain the same material aspirations that they had prior to that. People would not maintain aspirations that were always frustrated that they could never accomplish. People lower their aspirations given the situation, and we've known this all over the world, that people can adapt to the worst conditions as easily as the best conditions.
And retailers, he noted, will face headwinds based on consumers' demands that purchases of durable goods would be contingent upon price discounts.
"In only nine surveys in our long history, and this goes back more than a half a century, have more consumers mentioned their insistence on price discounts than in this current survey," added Curtin.
As such, the holiday shopping season won't be terrible, according to the professor, but retailers will have to deal with more margin compression than they may have anticipated.
So, happy holidays?
Before it's here, it's on the Bloomberg Terminal.
LEARN MORE