U.K. to Give `Tampon Tax' to Women's Cancer and Abuse Charities
by
Osborne commits to negotiating with EU to remove tax

Chancellor accused of using tax on women to mask budget cuts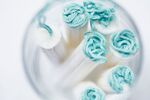 The U.K. will give taxes raised from the sale of tampons and sanitary towels to women's charities, Chancellor of the Exchequer George Osborne announced.
Money raised from the 5 percent value-added tax on sanitary products will go to cancer charities The Eve Appeal and The Haven and to SafeLives and Women's Aid, which are dedicated to ending domestic abuse, Osborne told lawmakers. Britain will negotiate with the European Union to scrap the tax, he said.
"We already charge the lowest 5 percent rate allowable under European law and we're committed to getting the EU rules changed," Osborne said in his Autumn Statement to Parliament in London Wednesday. "Until that happens, I'm going to use the 15 million pounds a year raised from the tampon tax to fund women's health and support charities."
More than 270,000 people have signed a petition calling for the tax to be removed. It is imposed because the products are defined as "non-essential luxury items" and, while it was reduced to 5 percent by former Chancellor Gordon Brown, EU law currently prohibits a zero rating.
"Any change to EU VAT law would require a proposal from the European Commission and the support of all 28 member states. Without that agreement, we are not permitted to lower rates below 5 percent," Financial Secretary to the Treasury David Gauke told lawmakers on Oct. 26. "It was striking that the vote in the French Assembly just a couple of weeks ago on an attempt to move the rate down from 20 percent to 5.5 percent was defeated. I do not wish to pretend that this would be a mere formality; other member states do take a different approach to this issue."
Osborne, who said 5 million pounds ($7.5 million) has been earmarked for the four charities he named, asked other women's organizations to apply for the funds. He compared giving the money to charities to the use of fines for rigging the Libor rate for military causes.
The announcement didn't meet with universal approval.
"Tampon tax to fund specialist women's health and domestic violence services which Tories and Lib Dems have cut," Mary Creagh, a lawmaker and one-time contender for the opposition Labour Party's leadership, said on her Twitter feed. "Thanks for nothing George."
Holly Baxter, a columnist for the Independent newspaper, was more vitriolic. "Women who have been raped can now pay for their own counseling through the tampon tax. Bravo, Osborne," she wrote.
Before it's here, it's on the Bloomberg Terminal.
LEARN MORE