U.K. Insurers Welcome Osborne Pledge to Tackle Whiplash Fraud
by
Average car insurance policy to fall by up to 50 pounds

Shares of Direct Line, Aviva, Admiral Climb in London trading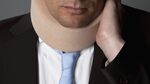 British insurers welcomed U.K. Chancellor of the Exchequer George Osborne's pledge to tackle fraudulent whiplash claims costing the country 2 billion pounds ($3 billion) a year.
The measures, which include removing the right to general damages for minor soft tissue injuries from a car accident, are expected to reduce the cost of an individual insurance policy by between 40 pounds and 50 pounds, Osborne told lawmakers in his Autumn Statement on Wednesday. He also plans to cut legal costs by transferring personal injury claims of up to 5,000 pounds to the small claims court.
"The government is determined to crack down on the fraud and claims culture in motor insurance," the Chancellor said. "This will end the cycle in which responsible motorists pay higher premium to cover false claims by others," removing more than 1 billion pounds "from the cost of providing motor insurance," he added.
Shares of the U.K.'s largest insurers including Direct Line Group Plc, Aviva Plc and Admiral Group Plc all increased more than 1 percent in London trading. The news comes as the industry grapples with heightened competition from price-comparison websites and claims inflation undermining profitability.
Aviva Chief Executive Officer Mark Wilson said the insurer plans to pass on the full savings to customers, reducing average motor premiums by more than 10 percent. Direct Line managing director of claims, Steve Maddock, said they had been calling for further reforms on motor fraud for "some time" but said more detail was needed.
Osborne said the governments will consult on the measures in the new year.
Before it's here, it's on the Bloomberg Terminal.
LEARN MORE