The World as Seen by Ackman Trophy Hire: `I'll Run the Railroad'
by
Canadian Pacific's Hunter Harrison, unbound on latest deal bid

`You start nickel-and-diming me, I'm outta here,' he says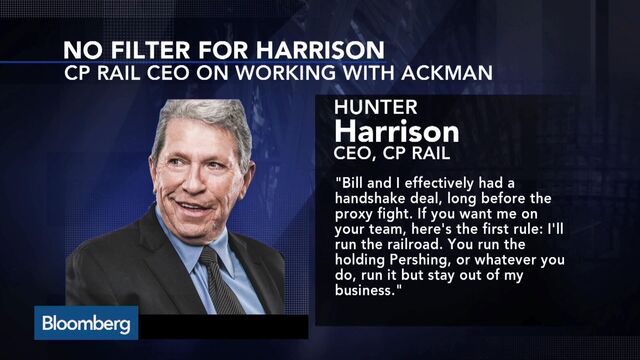 Hunter Harrison, the most-experienced CEO in North American railroading, has never been one to filter his remarks when talking to the media or even other executives. So it was last week when he hailed his latest merger bid as unprecedented, dismissed another potential deal as unworthy and said activist investor Bill Ackman understands that he needs to "stay out of my business."
This is the world according to Harrison, the 71-year-old Canadian Pacific Railway Ltd. chief executive officer who is pursuing a $28 billion takeover of U.S. carrier Norfolk Southern Corp. -- and in the process bucking the long-held industry view that the era of big mergers is over. Norfolk Southern has been cool to the overture.
Harrison has a track record not easily ignored: Since joining Canadian Pacific in 2012, he has led a turnaround that transformed one of the North American industry's least-efficient operators into one of its leanest carriers. He has long championed the idea of setting strict train schedules for deliveries.
In his signature Tennessee drawl, the former boss of Illinois Central Corp. and Canadian National Railway Co. held forth at Bloomberg's New York headquarters on industry dealmaking and a flirtation with railroad CSX Corp. He also discussed his relationship with Ackman, the Pershing Square Capital Management founder who lured Harrison out of retirement and orchestrated the 2012 boardroom coup that led to his hiring.
Here are edited excerpts of the conversation.
On establishing a working relationship with Ackman:
"Bill and I effectively had a handshake deal, long before the proxy fight. If you want me on your team, here's the first rule: I'll run the railroad. You run the holding Pershing, or whatever you do, run it but stay out of my business. If you do that, I can create some value for you and I can do it quickly. You start nickel-and-diming me, I'm outta here. We shook hands, and it's worked that way ever since.
"Bill is a respected board member. He is a very smart individual. When it comes to deals and finance, don't think I don't listen to him. He's got more experience here than I do. It's what he does. I railroad, he does that."
On what makes Norfolk Southern appealing:
"There's been a lot of turnover at Norfolk Southern at the top. I don't know why it happened. I still don't know.
"We're effectively 10, 11, 12 margin points (in operating ratio) ahead of them. We see no reason why we can't do there what we've done at CP. It may be even easier. They have a better infrastructure than we do. They have always been well respected for having a wonderful physical plant. Some of us have teased them about being gold-plated.

"This is where we think our strengths are: You've got all this congestion in the east, the busy gateways. That's where this whole model of precision-scheduled railroading works. The more congestion and problems and issues you have, the greater the importance of scheduling and matching up assets. The scheduling is powerful. People don't get it."
On obtaining approval for a big rail merger:
"We're opening up terminal access. So effectively, if you don't like our service and cost, you can bring in Brand X. If Brand X does a better job than us, they ought to have the business. So we're promoting competition.
"We think in the long run, this will get shippers' support because it's the best deal in town they've ever had. We think it'll get shareholder support and so for that reason, people that are writing the traditional stories that you can't get this approved -- we think they're in error."
On the 2014 talks with CSX:
"Look, that got blown way out of proportion. That dialogue with CSX lasted two hours, and if I'd had my way it would have lasted an hour because I got up and walked out. We saw quickly it wasn't going to work there. The cultures were wrong. They were inconsistent with their message, and I didn't want to do business with them."
On targeting Kansas City Southern and its Mexico operations:
"I don't like Kansas City Southern because of the Mexico play. I don't like Mexico. I like to play in an arena where I know the rules, and I understand what might happen. That's crazy down there.
"When the superintendent has got a guy riding shotgun with a shotgun, it doesn't make me feel real comfortable. They say: the biggest problem we got is people stopping the trains and stealing all the goods. It's like the Wild West. I don't need that."
Before it's here, it's on the Bloomberg Terminal.
LEARN MORE