Sorry, Retail ETFs Typically Lag the Market During Holidays
Seasonal sales don't necessarily boost these retail exchange-traded funds.
by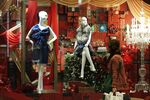 Ho Ho No.
Nothing says the holidays quite like articles about how investors can play Black Friday or the holiday shopping season with exchange-traded funds that track retail stocks. It's a seemingly logical idea, not to mention low-hanging fruit for a financial writer: The most wonderful time of the year is supposed to be the most wonderful time for retail sales.
Not to a be a Scrooge, but such retail-oriented ETFs tend to underperform the market during this time. In the nine years since retail ETFs began to trade, investors would have been better off just sticking with their boring old Standard & Poor's 500-stock index fund.
The table below shows the performance of the two most popular retail ETFs, the SPDR S&P Retail ETF (XRT) and the Market Vectors Retail ETF (RTH) during the holiday shopping season, from Black Friday through the day after Christmas.

At first glance, retail ETFs appear to shine during the holiday season, with XRT and RTH showing only one year of negative returns each and returning an average of 3 percent and 1.8 percent, respectively, during the period. The problem is that the market ordinarily performs better. As such, the holidays are good for the market, but not "extra good" for retailers.
As an aside, the reason the returns for XRT and RTH are so different is worth exploring. XRT drills into mid- and small-cap retailers and then equally weights the portfolio, giving all companies the same presence, regardless of size. Walmart gets the same weighting as Men's Wearhouse. This means a higher correlation to small-caps—and additional volatility.
Because RTH is weighted by market capitalization, such giants as Amazon.com, Home Depot, and Walmart eat up a third of the total weighting in the ETF. This means that investors in the ETF live and die according to the results for a few big companies. Over the past couple of years, this has been the way to go, with RTH trouncing both XRT and the S&P 500 index, as seen in the chart below. 

RTH's performance has been driven by Amazon and Home Depot, both up more than 200 percent during this time. Together, the two retails contributed nearly all the excess return. If their stocks ever crater, they will take RTH down with them.
As is so often the case in markets, investing in a retail ETF over the long term may prove a jolly idea, but trying to time a play for a few weeks in late November and December is likely to put some proverbial coal in your portfolio.

Eric Balchunas is an exchange-traded-fund analyst at Bloomberg. This piece was edited by Bloomberg News.
Before it's here, it's on the Bloomberg Terminal.
LEARN MORE