From War Zone to Workplace
The recovering economy is helping vets find jobs.
By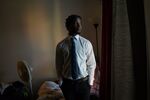 In June 2008, Jamuel Breeze moved to Atlanta from Newport News, Va., where he'd worked at Fort Eustis as an Army reservist with the rank of specialist. Breeze was 24, single, and ready for civilian life after four years of active duty, including two tours in Iraq. He figured Atlanta would have plenty of jobs, even for someone without a college degree. His timing was terrible. The financial crisis had started, the economy was shrinking, and companies were shedding workers faster than they had in decades. "I couldn't even find a job at McDonald's," says Breeze.
His monthly income—$500 in disability payments for post-traumatic stress, plus about $200 from the Army Reserve—was hardly enough to pay rent, let alone food, gas, and utilities. By December, Breeze had moved back to Virginia, where he spent the next several months sleeping on friends' couches, trying to figure out what to do with his life. "I wasn't on the streets, but technically I was homeless," he says. "I was pretty lost."
Breeze is one of 3.7 million U.S. military veterans who served after Sept. 11 and are now civilians. Three-quarters enlisted without a bachelor's degree. Nearly a third of them are disabled. In an economy that offers few opportunities to the young and uneducated, many veterans were at a statistical disadvantage the minute they were discharged.
Traditionally, veterans have had higher rates of employment compared with the general population. But the opposite has been true for the generation dubbed Gulf War-era II veterans by the government. By early 2011 the group's unemployment rate hit 15 percent. For vets aged 18 to 24, it reached 30 percent by October 2011.

Recent data, however, suggests a turnaround. From October 2014 to October 2015, 486,000 Gulf War-era II vets got jobs. Since January the group's unemployment rate has fallen from 7.9 percent, well above the national average, to 4.6 percent, half a percentage point below it. More than 80 percent of the group either have jobs or are actively looking for one.
"It's an extraordinary change," says Jonathan Rothwell, a research fellow at the Brookings Institution who focuses on labor market economics. It's still too early to know whether this marks a lasting change. The data from the Bureau of Labor Statistics isn't seasonally adjusted, and it's based on a monthly survey of only a few thousand vets, so it's prone to choppiness. Still, this past year has produced the best pace of job gains ever for vets who served after Sept. 11.
The improvement in the overall labor market deserves most of the credit, says Valerie Wilson, an economist at the Economic Policy Institute. Over the past 12 months the U.S. economy has added almost 3 million jobs, reducing the total unemployment rate by a full percentage point, to 5.1 percent. Wilson says employers have dug deeper into the ranks of the unemployed to find candidates. Many have been veterans.
It's also likely that recent initiatives to help veterans are paying off. "The amount of effort by the government and by public and private entities to ensure veterans are getting a shot at being employed has more than doubled or tripled," says Darrell Roberts, executive director of Helmets to Hardhats, a union-backed nonprofit that helps vets find work in the construction industry.
The military used to provide only a three-hour crash course in transitioning to civilian life, consisting of 800 PowerPoint slides. Service members can now spend more time planning for life after the armed forces before leaving the military. The Obama administration has created a job bank to connect vets with employers and offers companies tax credits for hiring jobless veterans.

The departments of Labor and Veterans Affairs have also made changes. "One of the early things we realized is that people were leaving the military without the ability to talk to civilian employers about their skills," says William Spriggs, chief economist at the AFL-CIO and former assistant secretary for policy in the Labor Department during Obama's first term. Simple fixes helped. The occupational codes the military uses to classify technical skills were changed to match those used in the private sector. That way, vets can describe their skills on job applications in terms employers can understand. Post-9/11 vets looking for jobs in the technical trades have been able to use the GI Bill for apprenticeships and training. And at the end of last year, the VA unified employment programs for vets at a number of federal agencies into a single portal. "For most of these veterans, it's the first time they're looking for a job and many felt it was an Easter egg hunt," says Rosye Cloud, the VA's senior adviser for veteran employment.
Companies have also focused on hiring veterans. In 2011, JPMorgan Chase, AT&T, and Cisco Systems pledged, along with eight other companies, to hire 100,000 veterans collectively. They've since hired nearly 300,000. On Nov. 2 the coalition, which now includes more than 200 companies, changed its goal to hire a million vets.
This generation of vets is now more attractive to employers. Many have spent the last few years earning degrees thanks to an improved GI Bill. After two years at a community college, Jamuel Breeze earned his bachelor's degree from Old Dominion University. He's now a sales associate at Macy's in Hampton, Va. "I'm at a company where there's room to grow and really learn the retail side of the business," he says.
More than 10 percent of veterans aged 20 to 24 remain jobless. A Wounded Warrior Project study suggests that 12.5 percent of its members are still without work. "These veterans fought an incredibly dangerous war," says Hannah Rudstam, who researches disability and employment at Cornell. "Businesses are still learning how to accommodate veterans suffering a very complex set of disabilities."
—With Josh Eidelson
The bottom line: Veterans of post-9/11 conflicts were experiencing jobless rates as high as 30 percent before the situation began to improve.
Before it's here, it's on the Bloomberg Terminal.
LEARN MORE