Osborne U-Turns on Tax Credits as U.K. Budget Forecasts Improve
by
OBR predicts U.K. still on course for budget surplus in 2020

Chancellor protects funding for police and boosts pensions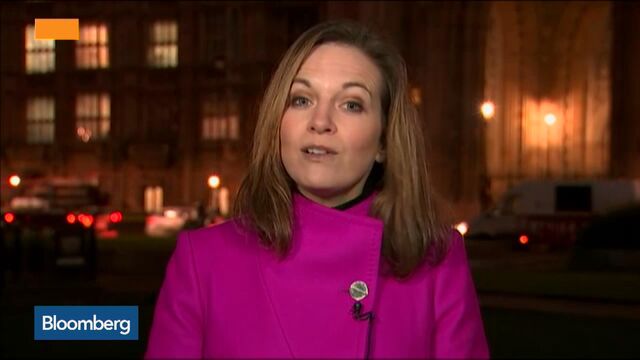 U.K. Chancellor of the Exchequer George Osborne scrapped controversial changes to tax credits for low-paid workers after opposition from his own lawmakers and a defeat in the upper House of Lords last month.
Osborne said the improved outlook for the public finances means he can scrap plans that independent research suggested might have cost affected families an average of 1,300 pounds ($2,000) a year. The move breaches his self-imposed cap on elements of welfare spending.
"I've had representations that these changes to tax credits should be phased in; I've listened to the concerns, I hear and understand them," Osborne told lawmakers in London Wednesday in his end-of-year fiscal statement. "Because I've been able to announce today an improvement in the public finances, the simplest thing to do is not to phase these changes in, but to avoid them altogether. Tax credits are being phased out anyway as we introduce universal credit."
The pound headed for its biggest gain in more than a week against the euro as Osborne used the statement to announce an increase in the economic growth forecast for 2016 to 2.4 percent from the 2.3 percent predicted in July and a slightly bigger budget surplus in 2020, when the public finances are forecast to return to balance.
In a speech as political as it was economic, Osborne announced additional spending on transport, pensions and housing as he sought to outflank the opposition Labour Party. Money from a tax on tampons and other sanitary products will go to women's groups, while fines from Libor rigging will be channeled to augment services for veterans.
Police Spending
In the wake of the Paris terror attacks, the chancellor said he'll maintain funding for the police after weeks of taunting from Labour that he would be forced to cut spending on law and order, an issue that has traditionally been seen in opinion polls as a strength for his Conservative Party.
"Now is not the time for further police cuts, now is the time to back our police and give them the tools to do the job. I am today announcing there will be no cuts in the police budget at all," Osborne said. "The police protect us, and we're going to protect the police."
There was also an increase in the rate of the state pension to 119.30 pounds a week and a 50-pound discount in water bills for householders in the southwest of England, benefiting people whose votes helped the Conservatives win a majority in May's general election.
The chancellor also announced an increase in the stamp-duty tax rate for purchases of buy-to-let and second homes to prevent first-time buyers from being locked out of the market by private landlords, a particular problem in London.
No Coalition
Osborne, who has imposed budget cuts in the face of repeated opposition warnings they would slow Britain's economic expansion, said he wants to ensure the growth is spread across Britain. Since the Tories won an unexpected majority, he has been unfettered by being in coalition with the Liberal Democrats and has pledged to press ahead with his program to slash welfare and government departments.
Under the plans outlined Wednesday, departments will face annual cuts of about 0.8 percent, a third less than those seen between 2010 and 2015. Unprotected departments will see reductions of about a fifth between 2016 and 2020.
Since 2010, no economy in the Group of Seven nations has grown faster than the U.K., Osborne told the Commons. "That growth has not been fueled by an irresponsible banking boom, like in the last decade," he said. "We're determined that this will be an economic recovery for all, felt in all parts of our nation."
Osborne announced plans for what he said would be Britain's biggest road-building program since the 1970s and said construction work can begin on the high-speed rail link between London and the north of England, known as HS2. While the Department for Transport's operational budget will fall by 37 percent, capital spending will increase by 50 percent to 61 billion pounds, he said.
The U.K.'s planned budget surplus in 2019-20 will be 10.1 billion pounds, the Office for Budget Responsibility forecast. In the July budget, the prediction was for a 10 billion-pound surplus. Giveaways including the reversal on tax credits will be more than offset by stronger tax revenue and lower debt interest payments than previously forecast.
Deficit Details
The deficit in 2015-16 will be 73.5 billion pounds, according to the OBR, falling to 49.9 billion pounds the following year. The 2015-16 deficit forecast was 69.5 billion pounds at the time of the July budget, but that's no longer directly comparable as a result of accounting changes relating to the status of nonprofit housing associations. Osborne said the July forecast had been adjusted to 74.1 billion pounds by the OBR when the housing providers are included.
"Ever the master of surprise, the chancellor defied expectations for a less severe pace of austerity," said Alan Clarke, an economist at Scotiabank in London. "His delivery came across as more like a giveaway than a slashing of expenditure."
Labour's finance spokesman, John McDonnell, poured scorn on Osborne's speech and said the chancellor had failed to hit almost all of the targets he had set for the economy in 2010.
"The chancellor has got some front to come to this house and talk to us about the deficit and to lecture us about deficit reduction -- today is the day the chancellor was supposed to announce austerity was over," McDonnell told lawmakers. "The reality is this: after five years, the deficit has not been eliminated and this year it is expected to be over 70 billion pounds."
McDonnell quoted a passage from Mao Zedong's "Little Red Book" on economic uncertainty at Osborne after criticizing the sale of U.K. assets to the Chinese.
"So the shadow chancellor literally stood at the dispatch box and read out from Mao's Little Red Book," Osborne said, before emphasizing divisions in McDonnell's party. "The problem is half the shadow cabinet have been sent off to re-education."
Before it's here, it's on the Bloomberg Terminal.
LEARN MORE