Osborne to Spur U.K. Housebuilding With Developer Incentives
by
Government housing budget to be doubled in spending review

Developers to get more than 2 billion pounds for starter homes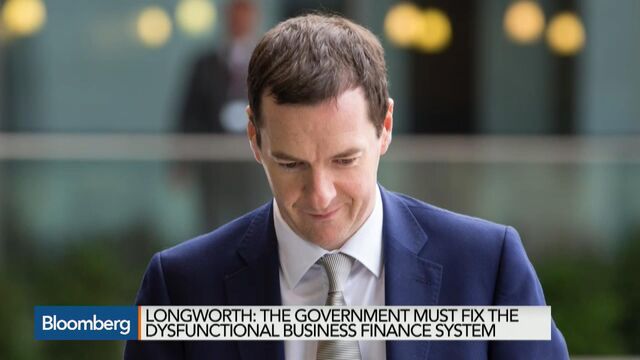 Chancellor of the Exchequer George Osborne will put the British housing crisis at the heart of his Spending Review by offering incentives for private developers to build affordable homes as lack of supply continues to push up property prices across the U.K.
A doubling of the annual housing budget will see 400,000 new homes built across England under proposals to be announced by Osborne on Wednesday. More than 2 billion pounds ($3 billion) of public money will be made available to developers to build starter homes. The Bloomberg EMEA Home Builders Index was up 2.1 percent at 08:18 a.m. in London trading.

"There is a crisis of home ownership in our country," Osborne will say in his end-of-year fiscal statement to Parliament in London starting at about 12:30 p.m. "We need to do much more. Today, we set out our bold plan to back families who aspire to buy their own home."
Prime Minister David Cameron promised in his election campaign to turn Britain into a "homeowning democracy." Lack of supply and rising demand, including from foreign investors, have pushed property prices beyond the reach of many families. In London, the average home sells for 531,000 pounds, with those who bought in the third quarter earning more than 100,000 pounds, according to official figures published this month.
Osborne will say the Treasury is setting aside 4 billion pounds to help housing associations and local authorities as well as private developers build 135,000 shared-ownership homes under the government's Help to Buy program, allowing people to buy a share in a property and then increase it over time.
Easier Access
The government is also widening the eligibility criteria, enabling more people to buy shared-ownership properties. All households earning less than 80,000 pounds outside London or 90,000 pounds inside the capital will now be eligible. Existing constraints on people being able to buy them will be removed, including restrictions on the number of bedrooms, according to the Treasury.
He will also reiterate the Conservatives' election pledge to build 200,000 starter homes for first-time buyers under 40. The homes, to be sold to buyers at a 20 percent discount, will cost a maximum of 250,000 pounds outside of London and 450,000 pounds in the capital. Developers will be awarded 2.3 billion pounds to fund them, while planning rules will be modified to allow them to be built.
The government will also provide 200 million pounds to fund a further 10,000 homes to be rented at a discount of 20 percent below market value, while a further 400 million pounds will fund 8,000 specialist homes for the elderly or the disabled, to be provided by housing associations or the private sector.
Costly Move
Government plans to force housing associations to sell homes to their tenants at a discount have sparked concerns among think-tanks including the Joseph Rowntree Foundation that the need for affordable homes will outpace their availability. If the homes sold are replaced by properties under the shared ownership plan, for instance, it could increase the cost of housing benefit by as much as 30.7 million pounds over five years, the organization said in a report earlier this month.
While the housing budget is increasing, many departments face cuts as Osborne seeks to eliminate a budget deficit that totaled almost 5 percent of economic output last year. While he's likely to meet his commitment of returning Britain to surplus by 2020, his target of 10 billion pounds may have to be revised down, according to Dan Hanson, a Bloomberg Intelligence analyst and former economic adviser to the Treasury. Britain recorded the largest budget deficit for any October since 2009, data last week showed.
"The government is likely to tolerate a small deterioration, with a view to rebuilding that buffer at coming fiscal events," Hanson said. "The weaker performance of the public finances this year probably won't fully be offset by other influences, leaving the chancellor with a bit of work to do should he want to maintain the size of the budget surplus planned for the final year of the parliament."
Before it's here, it's on the Bloomberg Terminal.
LEARN MORE