Osborne U-Turns on Tax Credits as U.K. Budget Forecasts Improve
by
`Simplest thing to do is not to phase these changes in'

Chancellor cites improvement in public finances for reversal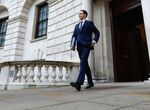 U.K. Chancellor of the Exchequer George Osborne scrapped controversial changes to tax credits for low-paid workers after opposition from his own lawmakers and a defeat in the upper House of Lords last month.
The changes to the thresholds at which the credits are paid would have cost affected families an average of 1,300 pounds ($1,960) a year, according to House of Commons library research.
"I've had representations that these changes to tax credits should be phased in; I've listened to the concerns, I hear and understand them," Osborne told lawmakers in Parliament on Wednesday as he introduced his so-called autumn statement. "Because I've been able to announce today an improvement in the public finances, the simplest thing to do is not to phase these changes in, but to avoid them altogether."
"Tax credits are being phased out anyway as we introduce universal credit," he said.
"What that means is that the tax credit taper rate and thresholds remain unchanged."
Before it's here, it's on the Bloomberg Terminal.
LEARN MORE