Modi Looks to Finally Pass Crucial Tax as India Stocks Slide
by and
Investors watching to see if GST passed in parliament session

India's stocks, currency among worst in Asia over past month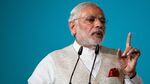 After a string of setbacks, Indian Prime Minister Narendra Modi has a month to get his reform plan back on track.
A parliamentary session starting on Thursday will show investors whether he can finally push through a goods-and-services tax, known as GST, that has been repeatedly blocked by opponents. While Modi this month took steps to boost foreign investment and infrastructure spending, the GST has become a bellwether for progress.
"The real test for the government will be if it can pass a national value-added tax, which markets consider to be a game-changer, in the face of an emboldened opposition," JPMorgan Chase & Co. analysts led by Bruce Kasman wrote in a Nov. 20 note. "Failure to do so is likely to have material consequences for domestic market and business sentiment."
Modi could use a big win after a rough few months: His party got trounced in a key state election, his fiscal deficit goal is under threat and credit growth remains stuck near a 20-year low. India's stocks and currency are among Asia's worst-performing over the past month.
The goods-and-services tax, known as GST, would help reverse the tide. The tax, one of India's biggest reforms since the 1990s, aims to whittle down more than a dozen state levies to create a single market among the country's 1.2 billion people for the first time.
Mob Murder
It won't be easy to cross the finish line. Modi's opponents, in disarray after he took office last year with the biggest Indian mandate in 30 years, united to defeat him in Bihar, one of the country's most populous states. That made it more unlikely that Modi would take control of parliament's upper house anytime soon.
"It seems highly unlikely that the major reforms will get enacted by the upper house of the Indian parliament where the ruling coalition is in minority," Vikas Halan, a vice president and senior credit officer at Moody's Investors Service, said in a statement on Wednesday. "Failure to implement these reforms could hamper investment amid weak global growth."
The prime minister's adversaries repeatedly disrupted the last parliamentary session in August, making it the least productive since he took power. They have fresh ammunition after a mob lynched a Muslim man for allegedly killing a cow, sparking a nationwide debate over whether Modi's Hindu-dominant party was turning India into a hostile place for religious minorities.
"The opposition has lots of issues to hit the government, put it on the mat, embarrass it, make it look weak and unproductive," said Arati Jerath, a New Delhi-based author who has written about Indian politics for about three decades. "Political issues will dominate the session, and it will upset the economic bills."
GST Fight
Finance Minister Arun Jaitley said this month that he has enough support to pass the GST if only government opponents allow a vote. He's also signaled some room for compromise.
The main opposition Congress party wants the GST rate capped at 18 percent and no additional 1 percent tax on goods crossing the border of producing states. Those changes would please business groups but make it harder for the constitutional amendment to be approved by more than half of India's 29 states.
Ahead of the winter session of parliament, which runs through Dec. 23, the Congress party appears ready to fight.
"The arrogance and obduracy of Prime Minister Narendra Modi and Jaitley are the biggest roadblocks in passing of GST bill, " said Randeep Singh Surjewala, a Congress spokesman.
Other key agenda items include:
Bankruptcy bill: The legislation will overhaul century-old insolvency laws and reduce the time it takes to wind up a dying company or recover dues from a defaulter -- a move that will make it easier to do business in India. The bill will likely be tabled in this session.
Real estate bill: The proposal establishes a regulatory mechanism to bring about transparency in the sector. It's likely to pass in this session after the government reportedly agreed to accept the proposals of a parliamentary committee.
Land acquisition bill: It's effectively dead after Modi decided against renewing an executive order to make it easier to acquire land after facing opposition from farmers. A panel of lawmakers examining the bill is in no hurry to produce a report.
Labor bills: The government will likely present proposals related to wages and industrial relations that would simplify India's hodgepodge of labor laws that now stifle businesses. The moves, which lack consensus among political parties and trade unions, may go to a parliamentary panel for scrutiny.
Commercial court bill: Parliament is likely to vote on Modi's executive order to create separate courts to adjudicate commercial disputes.
Arbitration bill: Lawmakers will also take up Modi's ordinance that will allow for speedy settlement of disputes through arbitration.
Before it's here, it's on the Bloomberg Terminal.
LEARN MORE