Mao's Surprise Parliamentary Appearance Sparks U.K. Tory Delight
By
Labour's McDonnell cites `Little Red Book' in joke about China

Conservative lawmakers mock his use of dictator's tract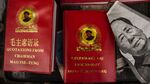 The roar from Conservative lawmakers was enormous, causing people who had just left the House of Commons chamber to run back in. John McDonnell, the hard-left Treasury spokesman for the opposition Labour Party, had pulled from his pocket a copy of "Quotations from Chairman Mao Zedong," better known as the "Little Red Book."
McDonnell was responding to Chancellor of the Exchequer George Osborne's Autumn Statement and Spending Review. Osborne had just announced a reverse on welfare cuts, after they were voted down in the House of Lords last month. It was a victory for Labour. Osborne had backed away from cutting police numbers, another Labour campaign area. He was, as McDonnell opened by pointing out, five years behind on his deficit-reduction target.
But McDonnell's reply will be remembered for none of these points. He decided to attempt a joke. It was intended as a comment on Osborne's enthusiastic search for Chinese investment in Britain, as well as a self-mocking nod at McDonnell's own hard-left beliefs.
"Let's quote from Mao," McDonnell said, as the Conservatives opposite him pointed in disbelief at the book in his hand. "We must learn to do economic work from all who know how. But we must not pretend to know what we do not know."
'Signed Copy'
Behind him on the Labour benches, fellow lawmaker Chris Bryant bit his lip and worked on his poker face. After a Tory opposite him briefly caught his eye, he tried to look stern, and then bit his lip again and looked down. McDonnell had finished quoting, and tossed the book across the table to Osborne. "More! More!" shouted delighted Conservatives.
As Osborne rose to reply, he picked the book up, quite possibly the first time he'd ever handled a copy of Mao's tract. "The shadow chancellor literally stood at the dispatch box and read out from Mao's 'Little Red Book,"' he said. "Look, it's his signed copy!"
It took the Conservative Party 90 minutes to send out an attack briefing on Mao, complete with a "notable quotes" section that included: "To read too many books is harmful."