Macy's Stock Is on Sale Along With Sweaters, CEO Lundgren Says
By
Shares of biggest U.S. department store chain down 40% in 2015

`You'd bet on this company,' retailer chief says in interview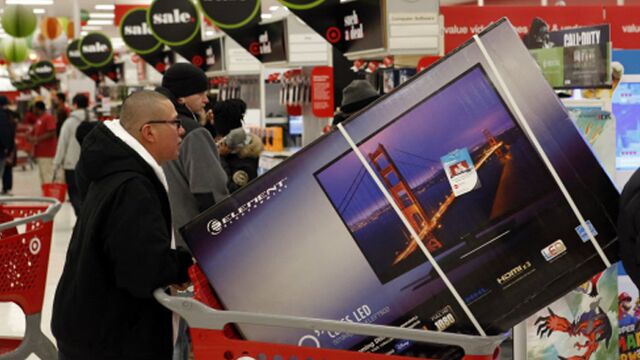 Macy's Inc., the largest U.S. department-store chain, may be offering investors a deal on more than just clothes on Black Friday.
Chief Executive Officer Terry Lundgren said that the company's recent challenges have created a buying opportunity for long-term investors. Macy's stock has plunged 14 percent since Nov. 11, when the Cincinnati-based retailer cut its forecast for the year, stoking fears that consumers are skipping trips to the mall in favor of spending on experiences and services. Its shares have slid 39 percent in all of 2015.
"Not only are our sweaters on sale, our stock price is on sale," Lundgren said in an interview on "Bloomberg <Go>" with Stephanie Ruhle. "Shareholders have been rewarded handsomely by being a Macy's shareholder, and they will be again."
Macy's warned that the holiday season will probably feature many discounts as warm weather and slow mall traffic last quarter led to a glut of fall merchandise that needs to be marked down to make room for holiday items. The company said that profit this year will be $4.20 to $4.30 a share, excluding some items, down from its previous estimate of as much as $4.80 a share.
Exchange Pain
The strong U.S. dollar is posing an additional challenge to Macy's this season, cutting into foreign tourist spending as the currency gains in value against the euro and the Brazilian real. With fewer travelers visiting its major Macy's and Bloomingdale's stores, the company is relying on fickle domestic shoppers.
While U.S. consumer spending is rising, many shoppers are focused on saving, while others are shifting their discretionary income to cars, home-improvement projects, meals and trips to the nail salon. The National Retail Federation has forecast $630.5 billion in spending during the November-December period, a 3.7 percent increase over last season but short of the 4.1 percent growth last year.
"Will those factors impact us forever? The answer is no," Lundgren said. "So for someone with a short-term focus, I totally get it and the impact you're seeing here. But if you believe in the history of what we've been able to accomplish when our backs are against the wall, you'd bet on this company."
Struggling Malls
Beyond a competitive holiday season, Lundgren said the biggest challenge the company faces is mall traffic. Although Macy's sells 92 percent of its goods through its stores, malls below the top-third tier are struggling. To combat that trend, Macy's is closing stores in shopping centers that "aren't going to be there long-term," Lundgren said. The company plans to close as many as 40 underperforming stores next year.
At middle-tier centers, Macy's is looking to new collaborations and innovative products to drive foot traffic. That includes opening Bluemercury beauty-and-spa stores inside existing Macy's locations and adding shop-in-shop partners such as LensCrafters and Finish Line. Macy's is also testing off-price locations called Backstage, Lundgren said.
"Just being in one channel isn't enough anymore," he said.
Even with the many hurdles facing department stores and other retailers, Lundgren, wearing a suit from the Ryan Seacrest's Distinction collection that's exclusive to Macy's, said he's confident the retailer will return to its previous sales growth.
"This company has consistently come back and outperformed the marketplace," he said.