Ikea Is Developing a Table That Tells You What to Cook
A better food prep table.
By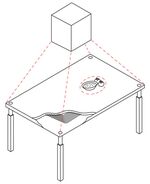 Innovator: Marcus Engman
Age: 49
Design manager at Ikea
Form and function
Ikea's Table for Living can detect the foods and ingredients on its surface and suggest recipes and preparation techniques.
Origins
Ikea and design firm Ideo spent about two years developing concepts for the kitchen of 2025.
Market
Global demand for cooking appliances will rise 5.5 percent by the end of next year, to $62 billion, says researcher Freedonia Group.

1. Camera
Attached above the table, a camera films the ingredients on the surface, then sends the images to your home PC for analysis by specially designed software.

2. Analysis
After sifting through its database for recipes that match what's on the table, the software sends them to a projector above, which shows them on the surface.
Cost
Engman says he wants to mass-produce the smart furniture without making it more expensive than a conventional Ikea table.
Other Uses
The table could eventually incorporate induction coils to heat food or charge a phone, he says.
Next Steps
Nadia Elrokhsy, a professor of sustainable interior design at Parsons School of Design, says the table could help people make better use of food that might otherwise go to waste. For now, Engman says his team is working to bring down the costs of incorporating more technology. "When you work with things like this, the hardest thing to achieve is low price," he says. "We are Ikea. We don't want to put expensive solutions onto the market." 
Before it's here, it's on the Bloomberg Terminal.
LEARN MORE