How Brazil's Banking Golden Boy, Arrested in Rio, Built an Empire
by and
Esteves became youngest self-made billionaire with UBS deal

BTG Pactual names Arida as interim chief as shares tumble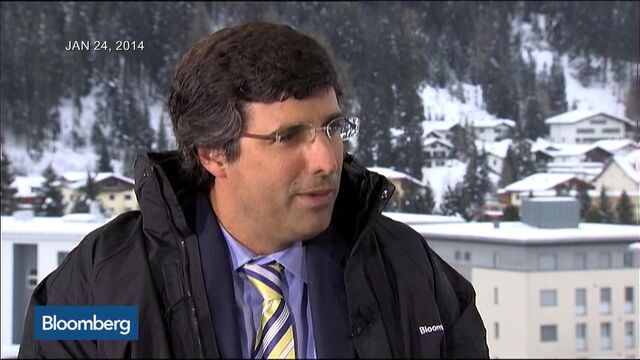 Andre Esteves, the brash banker who once joked his firm's name, Grupo BTG Pactual, stood for 'better than Goldman,' became the latest high-profile executive dragged into Brazil's widening corruption scandal.
The 47-year-old billionaire was arrested Wednesday in Rio de Janeiro, along with Senator Delcidio Amaral, police said. Esteves allegedly sought an agreement with Amaral to interfere with testimony from a jailed former executive of oil producer Petroleo Brasileiro SA, according to a court document.
Esteves made a splash on the international financial stage -- and became Brazil's youngest self-made billionaire -- when he sold Pactual to UBS for $2.6 billion in 2006. He and partners bought it back three years later and set off on an expansion, snapping up businesses including the Swiss private-banking unit of Assicurazioni Generali SpA. The firm sold shares to the public in 2012.
"He epitomizes the idea of a private, successful, entrepreneurial generation of Brazilian bankers -- that's what he represents," said Felipe Monteiro, a professor of strategy at Insead in France. His alleged involvement "with the most classic type of old politics is somehow strange."
Interim CEO
Esteves joins more than 100 people who have already been arrested, including former top executives at state-owned Petrobras and Brazil's biggest construction conglomerate. The sweeping investigation into alleged corruption at Petrobras, which began in March 2014, has helped make Brazil's real the worst-performing major currency this year, contributed to an economic contraction and shaken the government of President Dilma Rousseff. Shares of BTG Pactual dropped as much as 39 percent on Wednesday, the most ever.
"The risk to the firm is that Andre Esteves is the firm," said Mark Williams, author of "Uncontrolled Risk," a book on the rise and collapse of Lehman Brothers. "There is not a charismatic number 2 executive groomed and ready to lead."
BTG Pactual said it appointed Persio Arida, a former governor of Brazil's central bank and BTG's managing partner, as interim chief executive officer. The firm said in an e-mailed statement it's cooperating with the investigation, declining to comment on the question of succession.
Esteves' lawyer, Antonio Carlos de Almeida Castro, said in a phone interview that Esteves isn't guilty and wasn't involved in the actions he's accused of.
Boardroom Coup
Esteves was born in Rio, in the middle-class Tijuca neighborhood. An only child whose main interests were reading, studying and playing soccer, as a teenager he became fascinated by computers, he said in a 2007 interview. He went on to study computer science at the Federal University of Rio de Janeiro.
He started his career fixing computers at Pactual in 1989. Within two years, the bank's founder, Luiz Cezar Fernandes, had assigned him accounting and administrative jobs in the back office of the trading desk. Fernandes, in an interview in 2007, said he took a liking to Esteves early on because both men came from middle-class families and had no financial education or ties to Brazil's traditional, family-owned banking community.
Esteves later teamed up with three partners to engineer a boardroom maneuver that toppled his mentor. "I was surprised when they turned against me," Fernandes said. "But nobody could argue with a guy who was making a lot of money for the bank."
Money Maker
Making money was something Esteves said he excelled at, and enjoyed. He oversaw the fixed-income team at Pactual from 1993 to 1996, and became a managing partner in 2002. Less than a year after UBS bought the firm, it put Esteves in charge of global fixed-income sales and trading. He moved to London and oversaw more than 1,000 people.
"I like making money," Esteves said after he was appointed to that job. "I'm good at making money. It's exciting to create wealth."
Before long the financial crisis swept across the globe, crippling UBS with more than $50 billion of losses and writedowns and spurring a government rescue. After quitting to form BTG, Esteves joined up with some of his former partners to buy Pactual for $2.5 billion.
He's built the firm into Latin America's largest independent investment bank. It was the leading arranger of stock sales in the region in 2013, and again so far this year, data compiled by Bloomberg show.
Esteves donated an undisclosed sum to Harvard Business School in 2013 to renovate Baker Hall. A residence facility used by visiting executives, it was renamed Esteves Hall.
Shrinking Fortune
Esteves' personal fortune has been falling, however, not rising. His riches peaked at $4.9 billion in September of 2014. He's now less than half as wealthy, as his net worth dipped below $2 billion on Wednesday, according to the Bloomberg Billionaires Index. He shed hundreds of millions of dollars in value earlier this year as his firm was dragged down by loans and investments with companies embroiled in the Petrobras scandal.
Esteves has been involved in deals with the oil giant over the years, most notably involving Sete Brasil Participacoes SA. BTG Pactual teamed up with Petrobras and other partners in 2010 to create the oil-rig supplier, whose former operating chief admitted in plea bargains to crimes of corruption. Sete Brasil is in talks to renegotiate its supply contract with Petrobras, while BTG had to book impairments on its investment in the second and third quarters.
"He was the key guy, and now it's a kingdom without its king," Ray Zucaro, chief investment officer at RVX Asset Management in Miami, said in an e-mail. "As an outside investor it does give me pause, I just don't know where the next shoe will drop."
Before it's here, it's on the Bloomberg Terminal.
LEARN MORE