Hollande Presses Merkel for Bigger German Anti-Terror Commitment
by and
French leader suggests Germany can do more against ISIS

Hollande to meet Putin after Obama in bid to expand alliance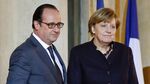 French President Francois Hollande sought to squeeze a greater anti-terror commitment out of Germany in the war on Islamic State, prompting Chancellor Angela Merkel to say she'll consider more help.
Hosting Merkel in Paris after a trip to Washington and before visiting President Vladimir Putin in Moscow, Hollande welcomed her offer to send 650 troops to Mali to free up French forces. Even so, he suggested, Germany could set aside military restraint and "engage even more in the fight against ISIS in Syria and in Iraq."
"Knowing the rules that exist in Germany in terms of external intervention, if Germany can go further, it would be a very good signal in the fight against terrorism," Hollande told reporters Wednesday before talks with Merkel over dinner. Merkel backed military action against Islamic State and said she would "react very quickly" to French requests.
As world powers intensify efforts to beat back Islamic State and resolve Syria's civil war after the Nov. 13 attacks in Paris, Hollande is seeking to enlist Germany in an anti-terror alliance with the U.S. and Russia. While the French president says he'll urge Putin on Thursday to refocus Russian airstrikes in Syria on Islamic State, Prime Minister David Cameron will ask lawmakers in London to approve extending U.K. bombing raids into Syria from Iraq.
Hollande's diplomacy will also take him to a meeting of leaders of Commonwealth nations in Malta, where he'll address the group on climate change on Friday before a United Nations conference on combating global warming in Paris next week. On Sunday, he'll join other European Union leaders at a summit with Turkey to seek ways to stem this year's record flow of refugees into the EU, spurred in part by the fighting in Syria.
Military Means
Merkel repeated her promise made after the Paris attacks that Germany is ready to offer France "any kind of help," though she didn't specify what that might be. Military deployments require parliamentary approval in Germany, a legacy of the nation's Nazi past.
"If the French president asks me to think about what we can do beyond that, then it's our task to consider it -- and we will react very quickly," said Merkel, who visited the Place de la Republique in Paris to honor victims of the attacks that killed 130 people. "Terrorism is our common enemy. Islamic State won't be persuaded by words; Islamic State must be fought with military means," she said.
The chancellor voiced concern that Turkey's downing of a Russian warplane on Tuesday risks setting back negotiations in Vienna to halt the war in Syria. U.S. President Barack Obama, alongside Hollande in Washington, said Tuesday that he'll make it a "top priority" to prevent the Turkey-Russia standoff from worsening.
"We need to make every effort to bring about a de-escalation and that dialogue can resume as quickly as possible," Hollande said Wednesday.
Fugitive Suspects
With Paris terror suspect Salah Abdeslam still on the run, Belgium issued an arrest warrant for another suspect in the Paris attacks as an unprecedented lockdown in Brussels, the capital, eased.
Mohamed Abrini, 30, was seen driving a car between Brussels and Paris with Abdeslam two days before the shootings and bombings in Paris. He's "dangerous and probably armed," according to Belgian police. Abdeslam is one of two brothers suspected of involvement in the assaults. The alleged ringleader, Belgian citizen Abdelhamid Abaaoud, was killed during a French police raid outside Paris on Nov. 18.
Before it's here, it's on the Bloomberg Terminal.
LEARN MORE