Hedge Funds Och-Ziff and Man Group Gain as Abengoa Shares Slide
by
Sothic Capital, TT International, Carmignac also profit

Abengoa fell 69% Wednesday after seeking creditor protection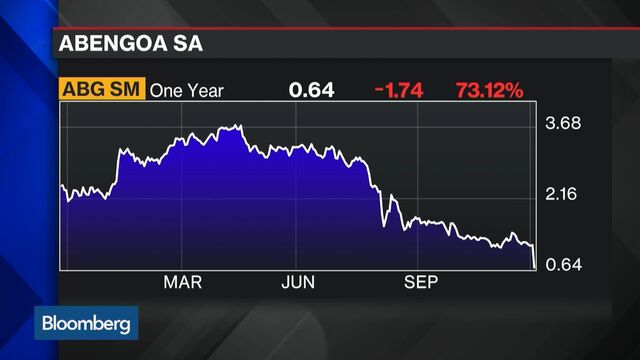 Och-Ziff Capital Management and Man Group Plc's GLG unit were among at least five hedge funds to profit as Abengoa SA, a Spanish renewable-energy company, fell as much as 69 percent Wednesday.
Abengoa's B shares plunged after the Seville-based company said it would seek preliminary protection from creditors following the breakdown of talks with a new investor. A spokeswoman for Abengoa declined to comment.
Five money managers, including New York-based Och-Ziff and London-based GLG, have had their short positions on Abengoa disclosed by Spanish regulators. The others are Sothic Capital Management, TT International and Carmignac Gestion SA, all based in Europe.
Spokesmen for Man Group, Sothic and Carmignac Gestion declined to comment. A spokesman for Och-Ziff couldn't immediately comment, while an e-mail and voicemail sent to TT International partner Eric Mackay weren't returned.
Hedge funds short companies by borrowing stock and selling it on the market with the aim of buying shares back at a lower price and pocketing the difference. 
Short interest in Abengoa has increased to 9.3 percent of shares outstanding, near the highest level of the year, according to data compiled by Markit. It's the most shorted stock on the benchmark IBEX 35 Index after Distribuidora Internacional de Alimentacion SA and Indra Sistemas SA.
Before it's here, it's on the Bloomberg Terminal.
LEARN MORE