French Guns Trump German Growth in Terror-Struck Europe
by
Hollande downgrades German deficit rules to spend on security

EU agenda shifts to anti-terrorism, possible reset with Russia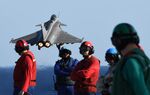 French warplanes taking off from the Charles de Gaulle aircraft carrier may not remake the Middle East, but are already reshaping Europe's balance of power after years of German economic dominance.
Refugees, Syria's civil war, Libya's dissolution, rumblings from Russia, terrorism in Paris and a red alert in Brussels put hard power back atop the European agenda, burying the notion of the economically bold but militarily shy Germany as Europe's unchallenged leader.
France, never comfortable with Germany's low-deficit strictures, has cast them off; President Francois Hollande first huddled with U.K. Prime Minister David Cameron to hammer out war plans against Islamic State, not with German Chancellor Angela Merkel; and Merkel is under fire at home for letting in too many refugees, amid fears that future terrorists are among them.
"You have undisputed German power in the economic realm, but Germany is not going to be in a position, at least in the short term, to provide security for Europe, so that will have to rest with NATO and especially within Europe, the U.K. and France," said Daniel Fiott, a researcher at the Institute for European Studies at VUB in Brussels. "There is a bit of balance of power emerging there."
France hasn't met euro budget-deficit targets, Germany's prized tool for managing the economy, since 2007 and Hollande downgraded them to a regulatory footnote in announcing extra spending on defense and internal security after Islamic State murdered 130 people in Paris on Nov. 13.
"In these circumstances, the security pact is more important than the stability pact," Hollande said. The rest of Europe, including Germany's deficit-phobic brethren, had little choice but to go along. Dutch Finance Minister Jeroen Dijsselbloem called France "broadly compliant" with the fiscal rules.
"The focus, if not obsession, with the euro-zone crisis has given us the impression that Germany is the superpower in the European integration process," said Christophe Hillion, professor of European law at the University of Leiden in the Netherlands. "But if we widen our view of European integration, the picture might be different."
Charles de Gaulle
The dispatch of the nuclear-propelled Charles de Gaulle to the eastern Mediterranean as the launchpad for airstrikes on the Islamic State's headquarters in Syria was full of French symbolism. As the founder of France's presidential system, De Gaulle had an almost paranoid belief in French independence, especially from the U.S. and the U.K., and in a Europe run by national leaders, not outsourced to surrogates in Brussels.
So when France made a precedent-setting decision to invoke European Union military aid after the Paris atrocities, it took its case to the national capitals, one by one, shunning coordination via the EU's central bureaucracy.
One of the first responders was Britain, which has had little time for grand EU defense designs -- its policy, re-emphasized in this week's 178 billion-pound ($270 billion), 10-year military upgrade, is NATO-first -- and is in the throes of a national debate over whether to quit the 28-nation bloc. Britain put an airbase in Cyprus on standby and pledged assistance with air-to-air refueling.
U.K. Wary
In making that offer at the Elysee palace, Cameron neglected to mention that it was triggered by an EU treaty obligation. As he preps a referendum by 2017 over a possible U.K. exit, the thought of Britain's war machine being bound by EU rules is simply too toxic. Britain's planned Syria mission, which Cameron outlined in Parliament on Thursday, will be part of the U.S.-led coalition.
As Britain orbits on the EU's fringes, France is undergoing an upgrade at Germany's expense. The intervention against Islamic State has led to a French rapprochement with Russian President Vladimir Putin, who is pursuing his own Syria agenda by trying to keep Bashar al-Assad in power.
Parlay With Putin
Hollande's trip to Moscow on Thursday spurred concern that France will break from the EU consensus over sanctions on Russia for its backing for the Ukraine separatist movement. Some eastern European governments fear the trade and investment curbs, up for renewal by Jan. 31, could fall as a gesture to the Kremlin.
"It is likely that French and German interests over a possible alliance with Russia will diverge," said Willem Oosterveld, an analyst at The Hague Centre for Strategic Studies. "Various countries in eastern Europe will also not be happy should Europe go soft on Russia, and count on Germany first of all to have their strategic interests protected."
Germany's post-World War II reticence about the military is compounded by coalition politics that make it the slowest-moving of Europe's major powers. German troops first ventured abroad for the Kosovo campaign of 1999 and joined NATO's Afghanistan pacification mission, then boycotted the Iraq invasion and, more controversially, the Libyan air campaign of 2011.
Germany is now training and equipping Kurdish opponents of the Islamic State. Merkel's cabinet on Thursday agreed to supply four to six Tornado surveillance planes, a frigate and air refueling capabilities, according to a coalition lawmaker. Germany will also send more soldiers to Mali and prolong the mission in Afghanistan to relieve French troops there.
"We have to use the full range of options at hand: foreign aid, diplomacy, intelligence and military as the last possible option," said Jan Kallmorgen, a partner at political consultancy Interel in Berlin. "But this requires a genuine public debate and a new strategic mindset."
Watch Next: Hollande to Meet Putin in Bid to Expand Alliance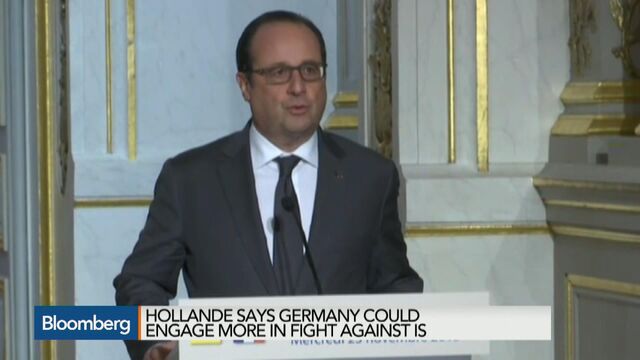 Before it's here, it's on the Bloomberg Terminal.
LEARN MORE