France Finds Deadly Bird Flu in Heart of Foie Gras Country
by
First H5N1 outbreak since 2007 as peak foie gras period nears

Food-safety agency to evaluate potential risk to humans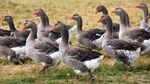 France found a case of deadly bird flu in the foie gras production region of Perigord, in the country's southwest.
The H5N1 strain of avian influenza was confirmed in a flock of about 30 backyard poultry in the village of Biras, said Christian Moreau, a spokesman for the Dordogne prefecture, which includes the Perigord region. The birds have been culled and a security perimeter set up around the village, he said.
Bird flu and measures to contain it, including mass culls, can decimate poultry production. A U.S. outbreak eliminated about 48 million fowl, mostly layer hens, in the first half of the year. The Aquitaine region that includes Dordogne is France's biggest producer of foie gras, the luxury food made from the liver of fattened ducks or geese.
"The perimeter has been established, we have to eradicate the virus but the situation is under control," Moreau said. "There are quite a few foie gras producers in Dordogne."
The H5N1 outbreak is France's first since 2007. The virus is highly pathogenic to poultry, and French food-safety agency Anses will evaluate the potential risk to humans, the Agriculture Ministry said. The virus type doesn't resemble strains circulating in Asia and for now there are no signs it's contagious for humans, according to a ministry briefing.
H5N1 Strain
While the cause of the outbreak is not yet known, H5N1 is generally spread by wild birds, Moreau said. France's last cases of bird flu were of the low-pathogenic variety H5N3 in 2009, according to notifications to the World Organisation for Animal Health.
The case comes before the festive season that accounts for peak foie gras consumption in France, with December accounting for about half of households' annual purchases of the delicacy. That's left Agriculture Minister Stephane Le Foll at pains to explain the virus is no danger to diners.
"This virus has no effect in terms of consumption on poultry meat and anything that comes from poultry," Le Foll told reporters at a meeting Wednesday. "I repeat, there is no risk in that sense."
Authorities have set up a 3-kilometer (1.9 mile) protection perimeter around the outbreak and a 10-kilometer surveillance zone, according to the ministry. Monitoring of farms as well as wild animals will be strengthened.
All the affected backyard birds were chickens, and the case is outside areas of dense poultry raising, with no duck or geese farms in the 3-kilometer protection zone, according to the ministry.
French foie gras production rose 1.3 percent last year to 19,300 metric tons, the ministry estimates. Aquitaine produced 50,676 tons of fattened ducks in 2013, about a third of France's output, as well as 790 tons of fattened geese, or 40 percent of the national total, government statistics show.
Before it's here, it's on the Bloomberg Terminal.
LEARN MORE