business
Far From Paris, Shock Waves of Attacks Shake Small-Town France
By , , and
More than 1,200 searches and raids across France since attacks

"People rush home as soon as they can'' ``They're Afraid''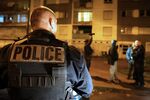 Provincial France is sleepy no more.
In the aftermath of the deadly Paris attacks this month, people in small towns and remote villages across France are grappling with a mixture of fear and bafflement as police conduct raids and searches in their backyards.
In the eastern region of Haute-Savoie bordering Switzerland, one such raid brought terror closer to home for Patrice Dupre. The 69-year-old retiree in Saint-Genis-Pouilly, a town of 10,000 in a rural area a five-hour drive from Paris, had learned of the searches in his region. Just 25 kilometers away, a man in Fillinges was indicted after police found an Islamic State flag and propaganda videos in his home.
"They're everywhere, these terrorists, even if their target may be hundreds of kilometers away," Dupre said over a glass of pastis at Charly's Pub in the center of town.
After jihadists armed with automatic weapons and suicide belts killed 130 people in seven attacks in the Paris area on Nov. 13, the French government imposed a state of emergency. More than 1,200 raids and searches across the country have turned up 230 weapons and resulted in 142 people being taken into custody, Interior Minister Bernard Cazeneuve said in parliament on Tuesday.
Joigny's Tale
Some small town police are finding themselves woefully ill-equipped to deal with these new threats. In Joigny, a medieval town by the Yonne River in Burgundy, central France, four of the five municipal police officers demanded that they be armed after the Paris attacks, citing safety concerns. Mayor Bernard Moraine denied their request. 
"We're a small city of 10,000 inhabitants." Moraine said in an interview. "The job of the municipal police is to make sure no one parks on a handicapped spot, that the garbage isn't put out on the street too early. If there's a problem, I usually head over there myself, and I don't even have a bullet-proof vest."
Yet, not far away from Joigny, the regional prefect declared a weekend curfew for the city of Sens after police found arms and falsified identification papers. Deputy-mayor Marie-Louise Fort backed the measure, citing the need to "ensure the peace of mind" of everyone in the city of about 27,000.
No Warrants
France's senate on Friday approved a three-month extension of the country's state of emergency, which allows the government to ban demonstrations, carry out searches without warrants and put people under house arrest without the oversight of courts.
Schools across France postponed trips and outings, while cars with Belgian plates have been the subject of extra scrutiny in the past week, including a bomb squad showing up for a parked vehicle in Bordeaux. The Paris attackers traveled from Belgium.
People remain jittery. In Arras in northern France, police arrested a 30-year-old man who threatened to blow himself up after his car was impounded, La Voix du Nord reported. Police evacuated a supermarket in Nancy after a client was thought to have spotted Salah Abdeslam, a suspect in the Paris attacks who's on the run, according to L'Est Republicain.
Empty Square
In Saint-Genis-Pouilly at the base of the Jura Mountains, residents including Dupre don't see their town as a terrorist target, despite a 2012 conviction of a scientist from the nearby Centre for European Nuclear Research for plotting terrorist attacks.
"There's no logic to attacking here," Dupre said. But even he recognizes that anyone could be picked after terrorists chose soft targets in Paris, including a concert hall, restaurants and bars and the national soccer stadium, Stade de France.
That concern is keeping some people indoors. The Tuesday market in Annemasse, a town of almost 34,000 inhabitants a few kilometers from Lake Geneva, was quieter than usual in the aftermath of the terror assaults.
"Ever since the attacks, there have been fewer people coming here," said Philippe Tran, a 61-year-old who sells roasted chickens. "They're afraid. It's normal."
Patrick Duteriez, 59, the owner of a merry-go-round that opened Nov. 17 for the holidays in front of the Annemasse city hall, says that unlike last year, the city empties out as soon as night falls. 
"People rush home as soon as they can," he said. "At 6 p.m. the square is empty."
Watch Next: The U.S., France Stand United in Total Solidarity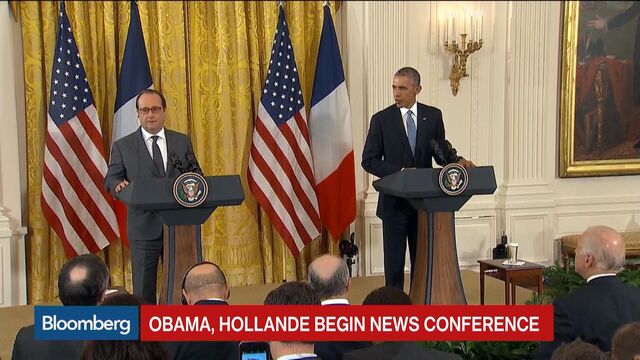 Before it's here, it's on the Bloomberg Terminal.
LEARN MORE