Egypt Weakened by Jihadists Its Strongman Vowed to Crush
Just as things started to look brighter for the most populous Arab country, President El-Sisi struggles to contain the fallout from yet another string of crises.
by and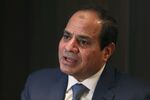 After welcoming the heads of some of the world's biggest companies in March to help Egypt chart a new future, President Abdel-Fattah El-Sisi returned to the Red Sea resort of Sharm El-Sheikh this month in more ominous circumstances.
Hundreds of tourists were lined up at the airport waiting to be evacuated after 224 people died in a Russian plane crash in Sinai on Oct. 31 claimed by Islamic State's affiliate in Egypt. Tourism is among the country's biggest foreign-currency earners along with the newly expanded Suez Canal, and El-Sisi had a message.
Any visitor to the North African country "is safe and we will increase our efforts to ensure the safety and security of everyone," he declared.
It's taken eight months for the euphoria and almost $40 billion of pledges that followed the investment summit to give way to yet more turmoil for the most populous Arab nation and the leader charged with rebuilding it after the chaos following the 2011 uprising. Egypt is pivotal to global oil supplies and embroiled in the fight against Islamist groups as they spread their deadly ideology to European capitals. Russia confirmed last week militants blew the Metrojet Airbus A321 out of the sky.
Unfortunate Events
The jet crash followed a growing shortage of dollars, now being worsened by the lack of tourists, and torrential rains that killed scores in northern Egypt. It led to rare attacks on El-Sisi from mainstream media, something almost unthinkable last year when he won 97 percent of the vote in a presidential election.
U.K. airline Easyjet Plc said on Tuesday it extended the suspension of services to Sharm El-Sheikh until Jan. 6 in line with a rolling British government ban on flights to the resort.
"Egypt is facing a very tough economic situation, partly because of the government's own policies but also because of regional events outside its control," said Mohamed Kamal, professor of political science at Cairo University. "The people need to be told that this is not going to be easy. Otherwise, we will find ourselves in a very risky situation."

Egypt is still trying to rebuild four years after President Hosni Mubarak's 2011 ouster and election of successor Mohamed Mursi and his Islamist government. A former army general, El-Sisi shot to prominence after the military-backed public uprising against Mursi in 2013 and assumed power as the leader to reboot the economy and quash militants.
Cash is also short. Foreign currency reserves are less than half the levels before protesters flooded Cairo's Tahrir Square calling for Mubarek's departure. A weakening Egyptian pound is spurring inflation already headed toward double figures in urban areas. The Cairo stock index is the worst performer in the world this quarter after battle-scarred Ukraine and is down 35 percent this year in dollar terms.
'Already Hungry'
The cracks are beginning to show. In a televised speech to a packed auditorium in Cairo on Nov. 1, El-Sisi snapped, directing a tirade at a talk show host who had questioned the handling of flooding in the northern coastal city of Alexandria.
In a calmer performance 10 days later in Sharm El-Sheikh, he said the worst that could happen is that Egyptians go hungry for the sake of building their country. It didn't play well.
---
 Egypt's Decline

Travel and tourism, 13% of the economy, in decline after Russian jet bombing as flight bans remain.
Foreign currency reserves less than half level before Arab Spring.
President El-Sisi comes under attack from Egyptian media that previously championed him.
Cairo stock market is down 35% in dollar terms this year.
Egyptian pound lost 9% as inflation heads toward double digits.
---
 "I don't need someone to make light of what's happening in the country," said Ahmed Essam, a 31-year-old cook in Cairo. "What we need is real change and progress, not just talk of hunger. We're already hungry."
Roll back eight months, and the mood in Egypt was still one of optimism. While El-Sisi warned that he did not have a magic wand, expectations in the nation of almost 90 million ran high. Rallies in support of El-Sisi often resembled rock concerts after the toppling of the Muslim Brotherhood and Mursi, whose year in office was marked by street clashes between Islamists and secularists and an economy reliant on aid from Qatar.
Conspiracy Theory
To show progress, El-Sisi plowed on with several mega projects. Under the stewardship of the military, the expansion of the Suez Canal was completed in July. He also worked to lure back foreign investors. The conference in Sharm El Sheikh yielded commitments from companies such as Siemens AG as well as Gulf Arab money.
Egyptian officials now blame the predicament on a conspiracy of events, with Britain and Russia both restricting tourists and raising questions over airport security. The travel and tourism industry contributed $36 billion to the country's economy last year, about 13 percent of the total, according to the World Travel and Tourism Council.
The government's response "to these challenges has been one of denial and doubling down on failed policies," said Yasser El-Shimy, a Boston University research fellow. "All of these factors undermine President Sisi's ability to maintain his tight grip over government, his unrelenting crackdown on critics of all stripes and his costly 'war on terror' against Islamists."
With assistance from Alaa Shahine.
Before it's here, it's on the Bloomberg Terminal.
LEARN MORE