Five Things Everyone Will Be Talking About Today
Time to get caught up on what is moving markets
by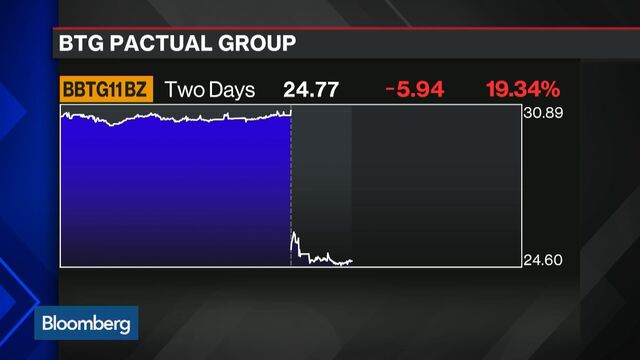 The ECB warns of possible "abrupt risk reversal," BTG Pactual CEO arrested in graft probe, and get ready for an economic data deluge. Here are some of the things people in markets are talking about today. 
ECB warning
In its twice-yearly Financial Stability Review, the European Central Bank has warned that chances of an "abrupt risk reversal" are increasing due to Chinese turmoil and the withdrawal of monetary stimulus in the U.S. The euro currency dropped below $1.06 this morning as expectations of further easing from the ECB at its meeting next week increase. 
BTG Pactual CEO arrested
Andre Esteves, CEO of Grupo BTG Pactual has been arrested in Brazil as part of a corruption probe that has engulfed the state-run oil giant, Petrobras, and some of the nation's biggest builders. Esteves once joked that BTG stood for "Better Than Goldman." The government's leader in the Senate, Delcidio Amaral, was also arrested this morning. Meanwhile in China, there is a growing trend of companies losing track of their leaders.
Commodities super cycle 
The Bloomberg Commodity Index of investor returns has fallen to levels not seen since the last millennium and the spot index is at its lowest since 2008 as the China slowdown continues to put pressure on prices and worries about Fed tightening push up the dollar. Iron ore is again in the crosshairs as it falls to another six-year low, dropping 1.9 percent to $43.89 a dry metric ton, according to Metal Bulletin Ltd. 
Turkey-Russia risks contained, for now
There has been little concrete reaction from either side to yesterday's downing of a Russian warplane by Turkish forces. Russian stocks rebounded and bonds gained as investors speculated that there will be no spiraling of tensions following the incident. With Turkey relying on Russia for about half of its gas needs, escalation seems to be in neither sides' interest.
Coming up...
There is a huge amount of U.S. data out ahead of the Thanksgiving break. Consumer spending is due at 8:30 a.m. ET and is expected to rebound from an October low. Durable goods orders is also due at 8:30 a.m. with the median estimate from economists at a 1.5 percent gain. At the same time, we get weekly jobless claims. At 10:00 a.m., new home sales data is out, with economists looking for an improvement to September's number.
What we've been reading
This is what's caught our eye over the last 24 hours.
 Want to receive this post, and more, into your inbox every morning? Sign up here
Before it's here, it's on the Bloomberg Terminal.
LEARN MORE