25 Years of Stock Market Milestones for China
Bloomberg News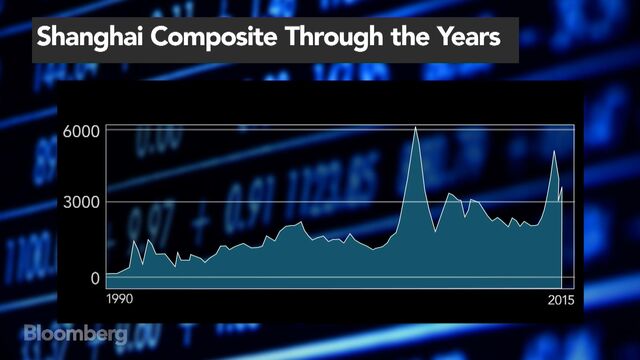 This year has been a wild ride for Chinese stocks, something that long-time investors have come to expect from a country that's seen 55 bull and bear markets since the ruling Communist Party first allowed equity trading in 1990. As the Shanghai Stock Exchange celebrates its 25th anniversary on Thursday, here's a look at some of the key milestones on China's path from equity-market upstart to $7 trillion behemoth.
Nov. 26, 1990
The start of the modern Shanghai exchange. The bourse now has more than 1,000 listed companies and an average daily turnover that reached 564 billion yuan ($88 billion) this year, according to data compiled by Bloomberg.
Dec. 1, 1990

The Shenzhen Stock Exchange was established. It has 1,729 companies with a total market cap of 22 trillion yuan. Average daily turnover reached 498 billion yuan in 2015.
July 15, 1993
Tsingtao Brewery Co. sold shares in Hong Kong, becoming the first Chinese company to list so-called H shares. More than 200 H shares now trade on the Hong Kong stock exchange.
Nov. 8, 2002
The China Securities Regulatory Commission and the People's Bank of China released joint rules on the qualified foreign institutional investor, or QFII, program, allowing overseas investors to buy yuan-denominated A shares for the first time. At the end of October, the regulator of foreign currency had approved 277 foreign investors with combined quotas of $79 billion.
July 9, 2003
UBS Group AG became the first QFII to buy A shares, purchasing stakes in four companies, including Baoshan Iron & Steel Co. and Shanghai International Port (Group) Co.
Oct. 16, 2007
The Shanghai Composite closed at a record high of 6,092.06 after surging five-fold over two years.
Nov. 4, 2008
The market's lowest point during the global financial crisis. The Shanghai Composite tumbled as much as 72 percent from its peak.
Oct. 30, 2009

The first batch of 28 companies started trading in Shenzhen's ChiNext board, which was created to facilitate fundraising by smaller companies in fledgling industries. The number of the companies trading on the board has grown to 484.
March 31, 2010
The Shanghai and Shenzhen exchanges started trials of margin trading and short selling. Margin debt in Shanghai has more than tripled over the past two years.
April 16, 2010
China started trading index futures linked to the CSI 300 Index. Ranked by the World Federation of Exchanges as the most active market for index futures as recently as July this year, trading has since slumped as China curbed bearish bets in an attempt to stop a $5 trillion rout earlier this year.
Aug. 11, 2011
Then-Vice Premier Li Keqiang said China would allow offshore yuan in Hong Kong to be invested in the nation's stocks and bonds under a system known as RQFII. At the end of October, regulators had approved 419.5 billion yuan of RQFII quotas for 146 foreign institutional investors.

Nov. 17, 2014
The Shanghai-Hong Kong stock trading link made its debut, giving foreign investors unprecedented access to mainland shares. The aggregate quota for purchases of domestic stocks is set at 300 billion yuan.
Nov. 28, 2014
China overtook Japan as the world's second-largest stock market.
June 18, 2015
Margin financing, the catalyst for a first-half boom in share prices, surged to a record 2.27 trillion yuan. After falling by more than half during a mid-year rout, it has since stabilized at around 1.2 trillion yuan.
June 29, 2015
China's longest-ever bull market ended at 935 days.
Feb. 9, 2015
The Shanghai exchange started trading options on the China 50 ETF, the first new equity derivatives allowed by regulators since index futures were introduced five years ago.
July 4, 2015
Twenty-one brokerages spent at least 120 billion yuan buying exchange-traded funds linked to blue-chip stocks to support the stock market, while the government imposed a freeze on initial public offerings.
Nov. 5, 2015
China's bear market ended at 75 days, one of the shortest in recent history. A day later, the government ends the moratorium on IPO sales.
Before it's here, it's on the Bloomberg Terminal.
LEARN MORE