BTG Pactual Tanks as Petrobras Probe Leads to Chairman's Arrest
By , , and
Government's leader in Senate also arrested, police say

Arrests tied to Carwash investigation into builders, Petrobras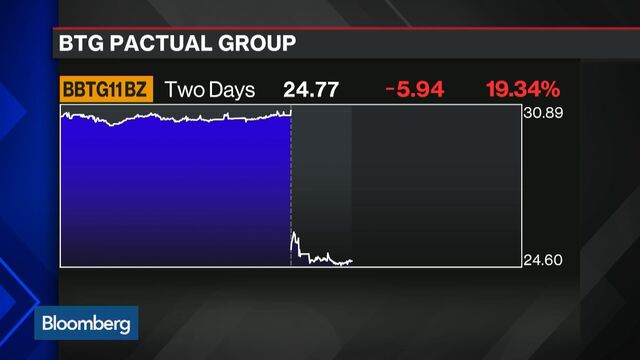 Andre Esteves, the Brazilian billionaire who transformed BTG Pactual into the largest independent investment bank in Latin America, was arrested in the corruption probe that has shaken the country's political and economic leadership.
The Supreme Court authorized the warrant to detain the financier on suspicion he and the leader of the government coalition in the Senate, Delcidio Amaral, allegedly tried to interfere in testimony related to a pay-to-play scheme at the state-run oil giant, Petroleo Brasileiro SA, according to a court document. BTG and Petrobras are partners in a troubled oil-rig supplier. Amaral was also arrested, making him the highest-ranking politician so far to be ensnared in the scandal.

The arrests usher in a new phase of a massive graft scandal that has crippled Brazil's economy and left President Dilma Rousseff fighting for her political survival. The nation's currency and stocks, which had stabilized in recent weeks after being in a freefall for much of the year, posted the worst drop among major markets Wednesday amid concern the scandal will prolong political gridlock and the longest recession since the Great Depression.
"The arrest of Mr. Esteves, the most high-profile figure in Brazilian finance, takes the Petrobras probe to a whole new level and shows the depth and breadth of a scandal that's engulfing Brazil's political and corporate establishment," said Nicholas Spiro, managing director at Spiro Sovereign Strategy, in London. "The scandal is becoming more debilitating by the day and is severely undermining the prospects for any kind of meaningful economic reform."
Amaral allegedly tried to convince former Petrobras director Nestor Cervero, who was arrested in January, to not mention him or Esteves in testimony to federal prosecutors, according to a document of the accusations read aloud in Brasilia Wednesday by Judge Teori Zavascki. Cervero's family would have received 50,000 reais ($13,000) every month in the proposal, and Esteves "would bear the burden of financial aid," according to the document. The offer also included a promised 4 million-real payment to Cervero's lawyer.
Televised images showed Esteves, 47, being escorted by a police officer into the federal police office in Rio de Janeiro. He sported a white button-down shirt, no tie and light stubble on his face as he walked past reporters to an elevator.
Sandra Goncalvez Pires, a partner at law firm Rao & Pires Advogados, said the banker is accompanied by a lawyer at the police station in Rio. She said his defense team is researching the arrest order, which allows for Esteves to be held for as many as five days and can be extended. BTG Pactual said in an e-mailed statement that it is cooperating with the investigation and is willing to explain whatever is necessary to authorities. The bank's stocks and benchmark dollar bond plunged.
Eduardo Marzagao, a spokesman for Amaral, said he was "surprised" by the arrest. "It must be a big mistake," he said.
More than 100 people have already been arrested, including former top executives at Petrobras and Brazil's biggest construction conglomerate. While many of the detainees have been released, at least three former Petrobras directors, three former executives at one of Brazil's largest construction firms and the former treasurer for the ruling Worker's Party have been sentenced.
The sweeping investigation into Petrobras -- dubbed "Carwash" by prosecutors after a gas station used to launder money -- has helped make Brazil's real the world's worst-performing major currency this year. Brazil's economy is forecast to shrink more than 3 percent this year, according to a central bank survey of economists.
Esteves has been involved in various deals with Petrobras over the years, most notably Sete Brasil. BTG teamed up with Petrobras and other partners in 2010 to create the rig-supplier whose former operating chief admitted in plea bargains to crimes of corruption.
New arrests suggest the full impact of Carwash, or Lava Jato in Portuguese, "is still to come," Joao Augusto de Castro Neves, director of Latin America for political consulting firm Eurasia Group, said in a note to clients Wednesday. "BTG Pactual has exposure to the oil and gas sector, and the arrest of its CEO is the first time the Lava Jato probe raises the earnest prospect of financial contagion."