Any Euro Respite Before ECB Meeting, U.S. Payrolls May Be Brief
by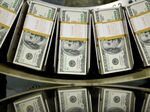 The rush to hoard U.S. dollars versus the euro may suggest a correction is possible before key events unfold on December 3-4. Yet, positioning, charts and options continue to argue that any recovery in the euro may prove short-lived, Bloomberg strategist Vassilis Karamanis writes.
On December 3, Federal Reserve Chair Janet Yellen testifies before the Joint Economic Committee of the U.S. Congress while the European Central Bank may announce further monetary stimulus that same day. On December 4, the next U.S. employment report is due. With some ECB members, including Executive Board member Sabine Lautenschlaeger, skeptical about more stimulus and Fed stressing "gradual" rate rises, Citigroup warns of unwind risks in short-euro-long-dollar trades ahead of ECB's meeting next week. Yet, any possible euro rally versus the greenback could be capped as early as 1.0780/1.0830.

Euro leveraged net shorts positions are still below the highs seen in March even though they have been steadily increasing since ECB's October meeting, according to data from the Commodity Futures Trading Commission.

Rebounds in euro-dollar in the past month have been confined to less than 1.5 percent, signaling the pair remains in a 'sell-on-rallies' trend.

Real-money names aren't fully engaged yet in the short-euro trade, three traders in London and southern Europe say, asking not to be named as they are not authorized to speak publicly. Interbank names and big hedge funds still have large orders to sell the euro above 1.0780 to the dollar, the traders add.
Finally, the euro's latest dip below 1.06 barrier against the dollar is shallow, which may indicate the market is preparing for quiet sessions ahead of Thanksgiving holidays in the U.S.
Traders are wary of a rush to buy back the euro versus the greenback over the holidays and ahead of next week's events. Hence, they have been hedging their short cash exposure in order to limit the need to fully unwind their positions in the event of a euro rally.
1-week 25d risk reversal, a gauge of market positioning and sentiment, has been diverging from the spot price action since late October.

Data from The Depository Trust & Clearing Corporation shows options expiring in November are heavily skewed in favor of euro-dollar calls, or the right to buy back the euro, while those expiring in December are slightly in favor of puts, the right to sell. Additionally, abundance of expiries within 1.06/1.08 until next week's key events may also influence price action, keeping it within a tight range.
Technical analysis shows EUR/USD has room to extend its recent decline amid limited signs of any imminent shift in momentum. 21-Daily Moving Average at 1.0804, daily trendline resistance near 1.0820 and November 12 high at 1.0830 provide technical resistance.

Note: Vassilis Karamanis is a FX strategist who writes for Bloomberg. The observations he makes are his own and are not intended as investment advice.
Before it's here, it's on the Bloomberg Terminal.
LEARN MORE