Abengoa's Bondholders Jumping Ship as Insolvency Concerns Mount
by and
Company edging closer to becoming Spain's biggest bankruptcy

Bonds due in March dropped to as low as 12 cents on the euro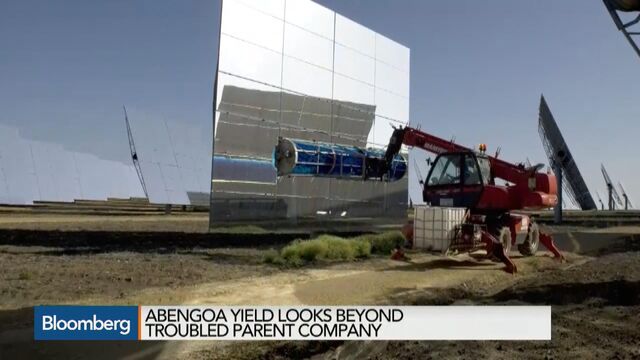 With Abengoa SA one step closer to becoming Spain's biggest corporate bankruptcy, creditors are faced with the unpalatable choice of dumping their holdings or taking their chances on an eventual settlement with the renewable energy company.
The predicament is playing out in the markets. Abengoa's bonds were among the most-traded securities in Europe on Wednesday, with its 8.5 percent notes due in March plunging to as low as 12 cents on the euro from 63 cents, according to data compiled by Bloomberg. The company asked bondholders to form a committee for debt talks on Thursday and made a formal application to a court in Seville for preliminary creditor protection, according to a person familiar with the matter.
"Many bondholders are selling now," said Stuart Stanley, a London-based high-yield fund manager at Invesco Asset Management Ltd., which manages about $791 billion. "If no-one is stepping up then who is going to help Abengoa? The company needs a white knight right now."
Abengoa, which is based in Seville and employs more than 24,000 people worldwide, has been seeking to reassure investors that it can generate enough cash to service a consolidated gross debt pile of about 9 billion euros ($9.6 billion). Its decision to apply for preliminary protection from lenders followed the breakdown of talks with Gonvarri Corporacion Financiera, a unit of industrial group Corporacion Gestamp, which had agreed to become Abengoa's biggest shareholder by injecting new funds.
Buying Time
Abengoa announced a plan in August to raise capital via a rights issue and by selling assets to counter lower-than-expected corporate free cash-flow. The company reiterated the goals when it reported negative cash flow and nine months of losses this month.
The request for protection buys Abengoa some time. It can suspend payments and keep negotiating with its lenders for a maximum of four months. If Abengoa hasn't reached a deal by the end of March, it will have to start insolvency proceedings. In Spain, more than 90 percent of companies that reach that stage end in liquidation, according to rating company Axesor.
Abengoa won't have to repay debt maturities, nor pay interest on its debt and that will "put a momentary halt" to outflows in working capital, Maxime Kogge, a credit analyst at Spread Research in Lyon, France, wrote in a note to clients on Wednesday. Abengoa has 331 million euros of debt maturing in the fourth quarter and 1.1 billion euros next year, he wrote.
The company had at least $5.3 million of commercial paper maturing Wednesday, according to Irish Stock Exchange filings.
Fitch Ratings downgraded Abengoa by five steps on Wednesday to CC, a level where it deems default as probable. Fitch said Gonvarri's withdrawal may have been down to insufficient funding from Abengoa's banks and creditors.
Debt Restructuring
Abengoa's debt mountain represents what would be the largest corporate bankruptcy in Spanish history, Felipe Villarroel, a money manager at TwentyFour Asset Management LLP in London, wrote in a note to clients.
"A restructuring is now inevitable," wrote Villarroel, who said TwentyFour Asset Management holds "a small position" in Abengoa's debt. Villarroel said the firm is inclined to hold on to its Abengoa exposure as it believes the company will survive as a going concern after a debt restructuring.
Abengoa's notes were among the most actively traded in Europe's corporate bond markets on Wednesday, with at least 390 transactions, according to data compiled by Trax, a unit of MarketAxess. The securities made up more than 10 percent of trading, the data show. Its bonds due in March, April 2020 and March 2021 were among the top five most-traded. The 2020 notes plunged to as low as 9.8 cents on the euro from 36 cents on Tuesday, according to data compiled by Bloomberg.
"This is the day of reckoning," said Antoine Bourgault, London-based head of credit research at ISM Capital LLP, a merchant bank. "I don't think there's any coming back from this."
Before it's here, it's on the Bloomberg Terminal.
LEARN MORE