Yield Hunters Seen Lured by U.S. Credit, European Stocks: Analysis
Signs of market divergence
by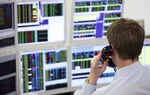 As multi-asset investors hunt for yield in this current near-zero interest rate environment, an analysis of fixed income corporate bond yields compared to current equity index dividend yields throws up some interesting differences between Europe and the U.S. While in the U.S. investment-grade corporate bond rates seem more appealing than equity dividend yields, in Europe we see the reverse, as stocks have a clear yield advantage over corporate bonds, Bloomberg strategist Simon Ballard writes.
U.S. bond advantage

U.S. investment grade debt now offers a spread close to a 3-year wide over equity dividend yields. As the relative valuation of stocks over fixed income deteriorates, and if the Federal Reserve does begin to normalize U.S. interest rates soon, which may have a negative impact on the corporate earnings outlook, investors in U.S. risk assets may see relative value in switching their focus away from stocks towards bonds.
European stocks advantage

Meanwhile, the opposite may be true in Europe, where the yield advantage of equities is close to its most compelling level in more than 10 years. European Central Bank monetary policy accommodation in recent years, having fueled the well-documented hunt for yield, has seen fixed-income yields collapse while their equity counterparts have been buoyed by the plentiful, cheap liquidity (debt)
As such, for euro yield-based, multi-asset investors, there might be an increasingly compelling case to consider an allocation shift from fixed income into equities, or at least a bias to direct new cash investments toward stocks rather than bonds. With the European Central Bank viewed by many market participants as likely to extend its quantitative easing program, or at least cut its deposit rate again at its December meeting, this dynamic of declining bond yields and robust equity dividend yields could intensify over the coming months.
Note: Simon Ballard is a credit strategist who writes for Bloomberg. The observations he makes are his own.
Before it's here, it's on the Bloomberg Terminal.
LEARN MORE