'Money To Be Made' at Every Investment Stage, Arora Says
by and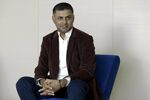 Nikesh Arora was hired last year by SoftBank Group and has since been promoted to president and the most likely successor to founder Masayoshi Son.
At SoftBank, the former Google executive is building a team to make venture investments around the world.  They're looking to invest in more mature startups that have proven products and are now looking to grow.
Arora sat down with Bloomberg News reporters in Tokyo to discuss his strategy, SoftBank's challenges and his decision to buy almost a half-billion dollars in company stock. What follows are edited excerpts.
Why SoftBank will focus on later-stage startups
There are 150-odd companies valued over $1 billion. Above $500 million, let's say there are 1,000 companies. That's our universe. We believe with 1,000 companies we can interpret this universe and understand it with limited resources. We are going to concentrate on companies in a finite range and we are going to understand them and pay attention to them for a very long time.
SoftBank's investment risks
There is money to be made in any stage, as long as you identify the right company. It's never too late. The bigger the check size, the higher you operate in the valuation pyramid, the more right you have to be. So if venture capital firms have to be right two to three times out of 10, we have to be right four to five times out of 10. It's much easier to be right four to five times out of 10 when you know your entire universe.
What Arora and his team offer startups
When you get to a certain scale, you don't need investment strategy, you don't need fundraising help, what you need is operational insights. So you don't make the same mistakes.
You are a $500 million company; you have 500 to 1,000 people. For the first time, you are doing things which you haven't done. It's usually not a product thing — they know their customer better than we do. It's kind of like table stakes — all the good companies have gotten them right. All we are doing is reducing the risk of getting them wrong.
Lessons from Google
The small decisions startups make now can have a huge impact as they grow up. [Founder] Larry [Page] made a big decision at Google: He went from the fixed price selling of the ads to auction-based pricing. That was the single most important decision and they made it way early in their life. And I'm sure all of these companies will be faced with similar decisions.
Why SoftBank trades at a discount to its public assets
When you look at SoftBank equity, there are three things that people worry about. One is what's going to happen to Sprint. Two is what's going on in China. And three is I hope Masa won't do another Sprint.
Things trade at how the people project the future for those things. As we prove by our execution and our behavior, as we introduce more predictability across those three areas, the discount should vanish.
Can SoftBank turn around Sprint?
Masa is unrelenting. He is working with [Sprint managers] almost every night for a few hours, 10 p.m. calls, or in the morning. If he succeeds, Masa will be the only person to have ever restructured two telecom businesses in different parts of the world.
Spending time with Masayoshi Son
I try to spend about 10 days a month with Masa. Ten out of 30 is not bad. Same amount I spend with my wife [laughter].
Is SoftBank interested in Yahoo's Alibaba stake?
I think it's fair to say we own enough of Alibaba stock.
Arora's plans for his SoftBank shares 
If we do double, triple the value of SoftBank, I'll pay back my loan and give money to charity. My inspiration long term is that I want to be able to change the education system in India. Hopefully, I would be able to do it without running into too much bureaucracy or friction.
Before it's here, it's on the Bloomberg Terminal.
LEARN MORE