Russia Traders Have Been Here Before But This Time It's Worse
by and
Political risk becomes bigger focus after 2nd downed aircraft

Putin labels Turkish military action a `stab in the back'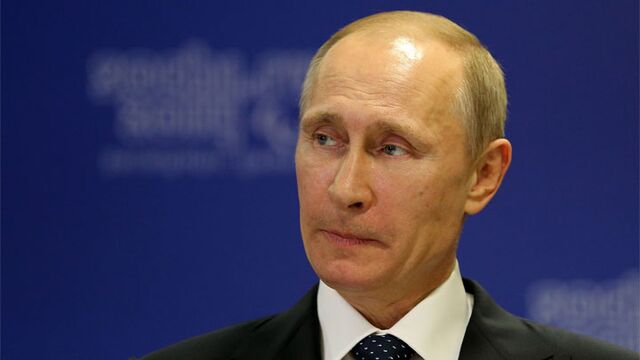 Traders of Russian and Turkish assets got a dose of deja-vu as a downed jet on the Syrian border rattled markets.
Stocks and bonds of the two countries led declines among developing countries after President Vladimir Putin accused Turkey of being an accomplice of terrorism for shooting down the Russian warplane on Tuesday. The episode was reminiscent of an incident last month in which an unidentified aircraft was shot down by Turkey's military. Traders proceeded to dump ruble and lira assets on concern the jet was Russian, only for prices to rebound when they learned it was actually an unmanned drone.
This time investors may not readily dismiss a standoff they say exposes political risks in Russia and Turkey, already among the most vulnerable emerging markets to outflows as the U.S. prepares to raise interest rates for the first time in almost a decade. Today's incident also threatened to derail a rally triggered by Putin's efforts this month to forge an alliance with the U.S. and France against Islamic State terrorists in Syria.
"Last time was different -- more fear, but a fast rebound due to the false alarm," said Vladimir Miklashevsky, a strategist at Danske Bank A/S in Helsinki. "This time, especially for stocks, the negative sentiment could last until certainty prevails and the dialogue between the two countries resumes."

Putin, speaking in Sochi where he's been holding talks with Jordanian King Abdullah, called the attack "a stab in the back" that carries "very serious consequences" for relations. Turkey said earlier it repeatedly warned the pilots that they were violating the nation's airspace.
The benchmark equity gauge in Istanbul slumped 4.4 percent, the most worldwide, and the Micex Index in Moscow retreated 3.1 percent. Bonds also fell, with Turkish 10-year local-currency yields climbing 25 basis points to 10.20 percent. The rate on similar-maturity ruble debt increased 18 basis points to 9.75 percent. The lira weakened 0.8 percent, trimming its gain this month to 1.5 percent.
"It's getting quite tricky for Putin internally to keep his high approval rating," Michael Ganske, who oversees $4.5 billion of debt and currencies as head of emerging markets at Rogge Global Partners in London. The flare will die down because Russia and Turkey have too much at stake to become involved in a drawn-out conflict, he said.





Ganske at Rogge said the dispute doesn't change his views on Russia, where he invests in the ruble and foreign-currency bonds. The ruble reversed course, gaining 0.3 percent. It fell 0.5 percent after Turkey said two F-16 jets shot down a Russian warplane that violated its airspace near the border with northwestern Syria.
Investors in the ruble are no strangers to price swings: it's the second-most volatile currency in the developing world since Russia annexed the Crimea Peninsula in March 2014 and was slapped with sanctions by the U.S. and European Union.
"Events like this usually fade from markets' memories very quickly," said Charles Robertson, global chief economist at Renaissance Capital in London.
More important than Tuesday's market reaction would be the impact of souring relations on the flow of tourists from landlocked Russia to Turkey with its Aegean Sea coast, according to Robertson.
"Turkey has potentially a great deal to lose if Russian tourists stop travelling to Turkey," he said by e-mail.
Gazprom Fallout
Russia was the biggest source of the nation's imports in 2014 at about $25 billion, surpassing China, according to data compiled by Bloomberg. Some 12 percent of all tourists to Turkey were from Russia last year, second only to Germany, Renaissance Capital said in a research note on Tuesday.
A fallout also threatens to hurt Russian businesses including Gazprom PJSC, which relies on Turkey for about 17 percent of its natural-gas exports outside of the Commonwealth of Independent States, BCS Financial Group estimates show. Putin has been seeking to build a gas pipeline to supply Turkey and the European Union.
For Turkey itself, the incident interrupted a period of political stability after the ruling party returned to power Nov. 1, calming civil unrest. The ruble and the lira have been among the top six performers in emerging markets in the past three months.
"There should be a bit more permanent political risk priced in to assets in those countries," said Koon Chow, a senior macro and currency strategist at Union Bancaire Privee in London. "This is a setback to positive sentiment toward Russia and Turkey."
Before it's here, it's on the Bloomberg Terminal.
LEARN MORE