Emerging Stocks Drop as Downing of Russian Jet Damps Risk Demand
by , , and
Putin warns of `very serious consequences' in relations

Turkish lira slumps second day, offsetting gains in ringgit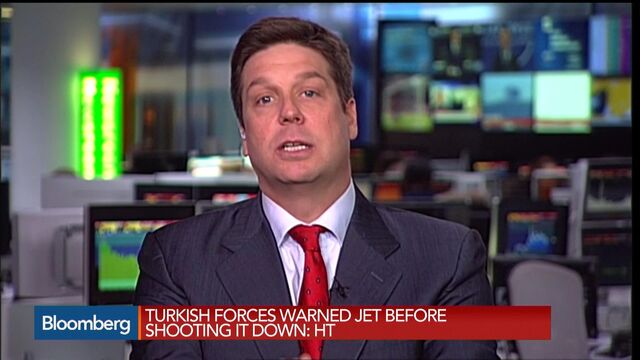 Emerging-market stocks declined for a second day and the lira weakened after Turkey shot down a Russian warplane, spurring concern that tension will escalate in the region.
Russia and Turkey led a retreat in equities worldwide as President Vladimir Putin said the incident would have "very serious consequences" for ties with Turkey. The dollar-denominated RTS Index fell 3.3 percent, its biggest drop in almost three months. The lira weakened the most among developing-nation currencies tracked by Bloomberg, while stock indexes from South Africa to Poland and Taiwan fell more than 0.7 percent.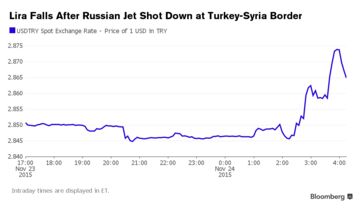 "The incident just highlights how complex the situation across Turkey's border is," Simon Quijano-Evans, the chief emerging-markets strategist at Commerzbank AG in London, said by e-mail. "There's no way either Turkey or Russia can afford to get into any sort of conflict with one another."
The downing of Russia's military aircraft marked the first direct clash between foreign powers caught up in Syria's civil war, roiling global markets and sparking demand for havens such as the yen and U.S. Treasuries. Emerging markets have borne the brunt of a selloff this year as rising political risks and a deepening slowdown in China lessened the appeal of developing-nation assets while the U.S. moves closer to raising interest rates.
Bonds Slide
The MSCI Emerging Markets Index slid 0.2 percent to 839.30, extending losses since a peak in April to June to 21 percent. The Borsa Istanbul 100 Index slid 4.4 percent, the most since June. Poland's WIG20 Index slumped 2 percent.
Turkish and Russian government bonds declined, with five-year yields on lira notes climbing 25 basis points to 10.29 percent and the rate on similar-maturity ruble debt jumping 19 basis points to 10.07 percent. The lira dropped 0.9 percent while the ruble was gained 0.5 percent after declining as much as 1 percent.
The premium investors demand to own emerging-market debt over U.S. Treasuries rose tone basis point to 381, according to JPMorgan Chase & Co. indexes.
Turkey Risks
Russia's Micex Index ended a six-day, 8.1 percent rally, as Gazprom PJSC retreated 4.2 percent, the most since late May. Gazprom, Russia's biggest natural-gas exporter, has significant exposure to Turkey, selling about 17 percent of its exports outside of the Commonwealth of Independent States to the country, according to BCS Financial Group.
Turkish military rules of engagement would apply to any plane that enters its airspace without permission and Russia should act carefully, Turkish Prime Minister Ahmet Davutoglu said in early October, after Russia said its jets mistakenly violated Turkish airspace at the time.
"Turkey has been exposed to political and geopolitical risk for many years
which is a known factor to investors exposed to the country," Quijano-Evans
said. "Looking ahead, investors will be watching to see whether the Turkish
leadership deals with all these challenges in a judicious manner."
Brazil's real rose 0.9 percent before a planned vote in congress for the fiscal target and as the central bank stepped up support for the currency. The Ibovespa gained 0.3 percent.
Ringgit Gains
Malaysia's ringgit strengthened 1.3 percent after 1Malaysia Development Bhd. agreed to sell its power assets to China General Nuclear Power Corp. for 9.83 billion ringgit ($2.3 billion). A gauge of 20 emerging currencies added 0.3 percent.
The Hang Seng China Enterprises Index of mainland companies fell for a second day, dropping 0.7 percent. The Shanghai Composite Index gained 0.2 percent.
The MSCI Emerging Markets Index has dropped 12 percent this year and is valued at 11.2 times projected 12-month earnings. That compares with a 0.8 percent retreat in the MSCI World Index, which is valued at a multiple of 16.
The developing-nation stock index's historical 30-day volatility, a measure of price fluctuations, has dropped to 15 percent from a four-year high of 28 percent in September.
Before it's here, it's on the Bloomberg Terminal.
LEARN MORE