Parking Lots Seen as Holiday Danger Zone for Drivers in Reverse
by
California's Jones says best holiday gift is safety in car

Backing up accounts for 25% of crashes, 1% of driving time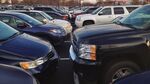 Shoppers flocking to malls for holiday deals should be wary of parking lots.
Backing up accounts for 25 percent of car crashes but just 1 percent of driving time, according to a statement Tuesday from California Insurance Commissioner Dave Jones and the Automobile Club of Southern California. Distractions from passengers, phones, the radio or intense parking-spot searches contribute to high crash rates in lots.
"The Auto Club wants this to be a season of joy and celebration, not a season that is spoiled by a parking lot accident," Kathy Sieck, senior vice president at the club, said in the statement. "Two of the days with the highest number of auto claims occur during this time of year -- the day before Thanksgiving and the Friday before Christmas."
Insurers and government officials are urging U.S. drivers to focus on safety ahead of the Thanksgiving holiday Thursday, which is marked by increased travel. Progressive Corp., the nation's fourth-largest auto insurer, said in a separate statement Monday that accidents increase 34 percent on Black Friday, led by mishaps related to parking or backing up.
Death Toll
The death toll on U.S. highways rose 8.1 percent in the first half of 2015 as low fuel prices contributed to a jump in miles driven by Americans, according to new figures from the Transportation Department. Distance traveled on U.S. roads in September was up 4.3 percent, or 10.8 billion vehicle miles (17.4 billion kilometers), from a year earlier, according to the most recent monthly report from the Federal Highway Administration.
Officials in California, the most populous U.S. state, recommend that drivers check surroundings before entering their cars, look every direction when pulling in or out of a parking space, stay off the gas pedal while backing up and watch for pedestrians moving between vehicles.
"A moment of distraction or poor judgment can lead to tragedy," Jones said. "The best gift you can give yourself this holiday season is to pay attention and be aware of hazards in busy parking lots."
Before it's here, it's on the Bloomberg Terminal.
LEARN MORE