Nestle Finds Abuse, Forced Labor by Thai Seafood Suppliers
By
Company releases action plan to halt abuses in supply chain

Nestle has also been addressing child labor on cocoa farms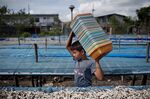 Migrant workers toiling in Thailand's seafood industry to supply global companies such as Nestle SA are subjected to hazardous, exploitative and degrading conditions in which some fishermen are even sold to other boat captains, a report commissioned by the company found.
The report conducted by Verite on behalf of Geneva-based Nestle and released Monday found "indicators of forced labor, trafficking, and child labor to be present among sea-based and land-based workers." The findings, which are consistent with the non-government group's previous research on Thailand's fishing industry, "present an urgent challenge to any company sourcing seafood."
Thailand's seafood industry has come under global scrutiny in recent years following reports from media outlets such as the Associated Press, the Guardian and Global Post that showed widespread abuse of workers, mainly migrants from neighboring Cambodia and Myanmar. The mistreatment was cited by the U.S. in its annual report on human trafficking, in which Thailand fell to the lowest level, as well as in civil lawsuits filed by consumers in the U.S. accusing companies such as Nestle and Costco Wholesale Corp. of selling seafood caught using slave labor.
The European Union threatened earlier this year to ban Thai seafood imports if the country fails to improve the regulation of its fishing industry. Thailand's military government has said it is working to address the concerns.
In addition to the commissioned report, Nestle also released its own action plan that it said is designed to stamp out abuses in its supply chain. The plan includes setting up channels through which workers can air grievances, training for boat captains and owners, and establishing better methods of tracing raw materials and verifying labor standards.
'Complex Issue'
"Nestle is committed to eliminating forced labor in our seafood supply chain in Thailand, working alongside other stakeholders to tackle this serious and complex issue," Magdi Batato, executive vice president of operations at the company, said in a statement. "This will be neither a quick nor an easy endeavor, but we look forward to making significant progress in the months ahead."
Nestle is adopting a strategy it has applied to its chocolate business after receiving criticism about labor issues. In 2001, Nestle and other leading chocolate makers agreed to a plan to try to prevent child labor on farms in West Africa after U.S. legislators Tom Harkin and Eliot Engel highlighted the problem. Nestle agreed to monitoring by the Fair Labor Association in 2012, and the non-profit organization makes random visits to farms that supply Nestle with cocoa.
Thailand's military leader Prayuth Chan-Ocha has said that it is only a few people within the industry giving the country a bad name.
"Those that cheat, violate the law or conduct human trafficking, these people have no place in Thai society, let alone any society," he said in his weekly television address Nov. 6, according to a transcript. "We will continue to prosecute these individuals and sustain progress on this matter."
He said his government will show "no leniency" and is sending teams to inspect fishing vessels and docks and conduct random checks of seafood-processing plants.