Mr. Trump, Madame Le Pen From France Is on Line 2: Read My Lips
Who's the apprentice now?
By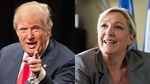 DONALD TRUMP: Marine? Donald. Lovely to talk to you. How's the weather in Europe? I hear business is huge at my golf course in Aberdeen, Scotland. Do you golf? We should golf sometime.