Kim Jong Un Puts Senior Aide Out to Pasture After Policy Spat
by
Choe Ryong Hae banished to be `revolutionized' at remote farm

South Korean lawmaker cites briefing by intelligence service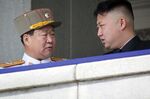 North Korean leader Kim Jong Un has banished one of his most senior aides to a remote farm to be "revolutionized" after a spat over policy.
Choe Ryong Hae, 65, was punished for disagreeing with Kim's policy of promoting the role of young people in society, South Korean lawmaker Shin Kyoung Min said, citing a briefing by his country's intelligence service. Choe was also blamed for a landslide and water leaks at an unfinished power plant near the border with China, Shin said.
"But he's still not considered completely out," Shin said by phone, raising the possibility that Choe may be reinstated later. North Korean officials have in the past been punished by being sent to farms and factories in remote locations to perform menial jobs. One was Jang Song Thaek, Kim's uncle who was executed in 2013 for alleged graft and factionalism.
Kim has purged a series of officials to bolster his grip on power since taking office in 2011. Talk of another high-level purge arose earlier this month when Choe's name was missing on North Korea's list of people to prepare for the funeral of an army marshal.
Choe met with Chinese President Xi Jinping in 2013 as Kim's special envoy. He has accompanied Kim frequently on trips since the leader took over North Korea's nuclear arms program and the nation's 1.2 million troops.
Before it's here, it's on the Bloomberg Terminal.
LEARN MORE