Li Ka-Shing's Power Assets, CKI Drop as Investors Spurn Merger
Bloomberg News
Hong Kong's richest man humbled as minority shareholders balk

Deal rejection comes as billionaire reorganizes his empire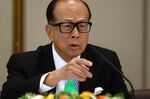 Billionaire Li Ka-shing's Power Assets Holdings Ltd. and Cheung Kong Infrastructure Holdings Ltd. fell in Hong Kong trading after shareholders rejected a $12.4 billion deal from the city's richest man.
Power Assets shares fell 2.9 percent, the steepest decline in three months, to close at HK$70.55. CKI slipped 0.4 percent to HK$68.80 and the Hang Seng Index dropped 0.4 percent.
On Tuesday, minority shareholders blocked a proposal for CKI to buy out Power Assets, dealing a rare setback for a tycoon who's so revered in Hong Kong for his business acumen that he's known as "Superman." The proposal's collapse prompted analysts at Daiwa Securities Group Inc. and UBS Group AG to cut their investment ratings on Power Assets.
Earlier this month, influential proxy advisers Institutional Shareholder Services Inc. and Glass Lewis & Co. recommended investors vote against Li's proposal, saying the offer was too low. The 87-year-old tycoon, who merged his two flagship units earlier this year, is seeking to consolidate his business empire before handing over control of his empire to his elder son Victor.
"People had valuation concerns and they were not happy with the proposal," said Ronald Wan, chief executive at Partners Capital International in Hong Kong. "It's a short-term setback to Li's plan to streamline his businesses. But they will still pursue it again, even though it's not likely in the short term."
Li failed to get enough Power Assets minority shareholders voting at a meeting on Tuesday to approve the deal, according to a statement to the Hong Kong exchange. In order to go through, the proposal needed at least 75 percent of votes cast by minority shareholders to approve the transaction. Only 50.8 percent did.
Special Dividend
Because of the vote results, CKI won't be able to make another attempt to buy Power Assets for another year. Both companies said in separate statements they were disappointed with the outcome.
Analysts at Daiwa, which says it was the first broker to make the case for a CKI-Power Assets merger, was also disappointed. It projected the stock could see 13 percent of "value destruction."
CKI had offered 1.066 of its shares for every one of affiliate Power Assets, a transaction valued at $12.4 billion based on their stock prices before today. It had also proposed a special dividend of HK$7.50 per share payable to the combined company's shareholders after the deal.
In addition to failing to get enough votes, about 26 percent of Power Asset's minority investors rejected the deal. In order to go through, no more than 10 percent of those shareholders could turn down the proposal.
At Tuesday's vote, journalists weren't allowed into the meeting venue and executives dodged reporters' questions as they made their way out from the hours-long session. Some investors voiced frustration with the offer.
Full Control
"No one from management could persuade some of us to vote in favor of the offer because it isn't justifiable," said Hui Ming-tak, who's held 4,000 shares of Power Assets for more than 10 years. "The deal is more tilted in favor of CKI than Power Assets."
The proposed merger, first announced on Sept. 8, would have given CKI full control of Power Assets' more than $8.7 billion in cash and equivalents, which could have been used to fund future acquisitions. After the deal, the Li family's CK Hutchison Holdings Ltd. would have controlled the combined company with a 49 percent stake.
In the past two years, CKI and Power Assets have bought assets including an Australian gas distributor, a Dutch waste processor and an airport parking business in Canada. The combined company would have owned and operated utilities, waste management and transportation in China, Europe and Australia.
"CKI will continue to move forward in our own strategies for growth," the company said in its statement. "The Group will build on the strength of our existing infrastructure portfolio and balance sheet to pursue new opportunities for expansion."