Two HPs Diverge on Lackluster PCs, Corporate Tech Optimism
by
Dependence on shrinking market hurting PC company post-split

Hewlett Packard Enterprise strikes a more positive tone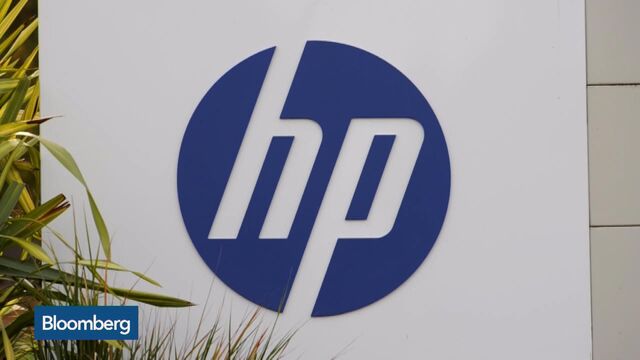 Shares in the two publicly traded companies created from the split of Hewlett-Packard Co. this month diverged after a disappointing earnings report Tuesday, the final one as a combined company.
HP Inc. fell 14 percent to $12.64 at the close in New York after a forecast for the first fiscal quarter as a stand-alone company came in lower than analysts had anticipated, hurt by its dependence on the lackluster market for personal computers and printers after splitting up with its corporate-technology counterpart.
Hewlett Packard Enterprise Co., the other half of the former company, sells equipment, services, and software to businesses. It gained 3.1 percent to $14.12. HPE, as it's known, also gave a quarterly profit forecast that fell short of analysts' estimates, yet executives struck a more positive tone, pointing to revenue growth minus the impact of currency fluctuations.
Meg Whitman, who became chief executive officer of HPE in the split and is chairman of HP Inc., advocated for the separation by touting the opportunities that independence offers each company, saying they can be more nimble and responsive to customers as the technology landscape changes. While that bet may pay off, it also shines a bright light on the struggles HP Inc. faces in the shrinking PC market, even as HPE scouts out new areas for growth.
"This is the first snapshot of, 'OK, is she on the right path?"' said Jeffrey Fidacaro, an analyst at Monness Crespi Hardt & Co. "Take HP Enterprise -- that's where a lot more of the risk and a lot more of the transformation needs to take place."
Quarterly Profit
For the fiscal first quarter, which ends in January, HP Inc. expects profit excluding certain costs to be 33 cents to 38 cents per share -- falling short of the average analyst estimate for 42 cents, according to data compiled by Bloomberg. HPE profit will be 37 cents to 41 cents a share, the company said in a statement, compared with an average projection for 44 cents.
HPE reaffirmed its forecast for annual profit, before certain items, to be $1.85 to $1.95 a share.
Once a Silicon Valley bellwether, Hewlett-Packard Co. announced its plan to split itself in two last year after failing to keep up sales growth amid rapid changes in the industry, especially shifts toward mobile and cloud-based computing. 
On a conference call Tuesday following Hewlett-Packard Co.'s final earnings report as one company, HP Inc. executives said the PC industry is tougher than anticipated. 
PC-division sales in the fourth quarter fell 14 percent from a year earlier, after dropping 13 percent in the previous quarter. Growth has evaporated in the PC industry as more consumers and workers use smartphones when they want to check e-mail or surf the Web. Global PC shipments fell 7.7 percent in the calendar third quarter, according to Gartner Inc. Revenue from the printing business, which carries higher operating margins, also dropped 14 percent.
"Both markets are and continue to be tough markets," said Dion Weisler, who is now CEO of HP Inc., referring to PCs and printers. "We executed well in these tough markets."
To help counter the persistent slump, the company is moving more quickly to take costs out of the business, Chief Financial Officer Catherine Lesjak said. Job cuts of about 3,300 that were supposed to take place over three years are likely to be accelerated to about 12 to 18 months. The company will look for other opportunities to address expenses, she said.
Enterprise Growth
Sales growth was uneven for key businesses that have been folded into HPE, whose divisions turned in total fourth-quarter revenue of $14.1 billion -- down 4 percent from a year earlier. Without the effect of currency fluctuations, sales from those divisions would have risen 3 percent in the quarter, HPE said.
Fourth-quarter revenue increased 2 percent to $7.4 billion for the enterprise group, which sells servers, storage and networking gear. Enterprise services, which provides consulting and outsourcing for businesses, posted a 9 percent decline in revenue to $5 billion, after sales slid 11 percent in the prior period. Revenue in the software business, a key area for future growth, fell 6.6 percent.
"We're off to a strong start," Whitman said of Hewlett Packard Enterprise. "It's probably too early to say the split is showing its effect. These markets are changing at warp speed."
Before it's here, it's on the Bloomberg Terminal.
LEARN MORE