Indonesia Rate Debate The Main Course at Central Bank Dinner
by and
Vice president Kalla sees high interest rate as a weakness

Bank Indonesia governor says rate held due to Fed, China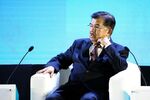 Indonesia Vice President Jusuf Kalla has challenged the country's central bank in person to stop using the U.S. Federal Reserve as an excuse not to cut interest rates, which he said are too high and impeding investment.
Indonesia has higher interest rates than in its neighbors, which is one of the country's weaknesses, along with infrastructure and bureaucracy, Kalla said in a speech in front of Bank of Indonesia Governor Agus Martowardojo in Jakarta on Tuesday. In response, Martowardojo told reporters the central bank is committed to stability and has held rates steady because of the Fed, China and commodity prices.
The remarks highlight differing views over rate policy in Indonesia that spilled into public comments this year, with Kalla and other ministers putting varying degrees of pressure on the central bank to cut rates to stimulate a sluggish economy. Bank Indonesia this month compromised by cutting the primary reserve requirement for lenders and keeping its main rate unchanged, providing some support for the economy while guarding against currency weakening.
"We don't need to keep coming up with excuses, whether it's the Fed raising rates, whatever it is," Kalla said in a speech, following Martowardojo's address and love songs from the central bank's house band at an annual dinner for bankers. "Indonesia with 7.5 percent rate is still high. We shouldn't let ourselves be played like that."
Central bank policies need to support growth, while the government needs to make sure its policies don't lift inflation, Kalla said. The vice president said in May that the authorities would gradually cut borrowing costs and would do so without deterring people from putting money in the bank. Yet the central bank pledged then to keep monetary policy tight and has held its reference rate at 7.5 percent since February.
Bank Indonesia flagged last month that there was room to ease monetary policy because of softening inflation, though most economists expect the authority to wait until after the Fed's December meeting. Fed officials are considering raising their benchmark interest rate as soon as next month, should data continue to indicate that the U.S. economy can withstand tighter monetary policy.
Martowardojo also called for action from the government. He said it needed to bolster manufacturing, infrastructure and power supply to improve the country's economic resilience. Indonesia's efforts to keep a lid on price inflation have been hampered by poor roads and strained ports that make it expensive to move goods in the sprawling archipelago.
"The government must do its job and lower inflation. If that is done then it is easier for BI to lower the rate," Sofyan Djalil, the country's planning minister, said on Wednesday. "BI has many things to consider but the desire of the government is to see how we can cut the rate. The cost of financing in Indonesia is one of the most expensive in the world."
Before it's here, it's on the Bloomberg Terminal.
LEARN MORE