EU Refugee Numbers Drop for First Time This Year as Winter Nears
by
External borders tightened after terrorist attacks on Paris

Record 220,535 people arrived in EU seeking shelter in October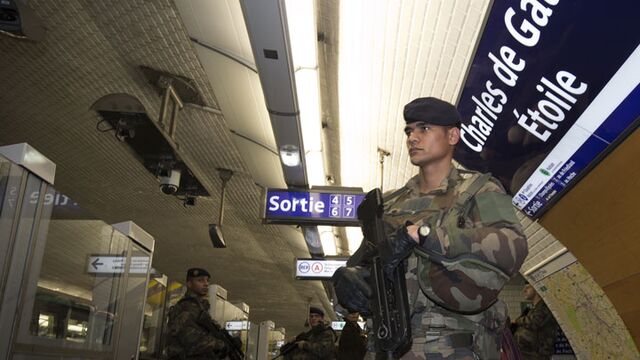 The number of refugees arriving in the European Union from violence-scarred regions of the Middle East and Africa is set to fall in November as traveling conditions worsen and member states looked to strengthen the bloc's external borders.
QuickTake Europe's Refugee Crisis
The number of migrants crossing the Mediterranean Sea to reach the EU this month fell to 116,579 through Nov. 23 compared with a record 220,535 in October, according to the United Nations refugee agency.

The deepening chaos in nations from Libya to Syria has spawned an unprecedented wave of more than 860,000 people seeking shelter within the EU this year. The influx opened divisions within the bloc as German Chancellor Angela Merkel insisted Europe must honor its asylum commitments while other leaders such as Hungary's Viktor Orban complained of the strain on their communities.

The pressure on Merkel increased this month when jihadists who attacked restaurants and a music venue in Paris. At least two of the assailants are thought to have entered the EU as refugees.
On Friday EU nations agreed to bolster controls on frontiers around the bloc. They agreed to start carrying out systematic registration, including fingerprinting of all migrants entering into the Schengen area. All travelers will have their passports checked when they arrive in Europe, extending the full-blown screening that is currently limited to non-EU passport holders.
The number of people entering Hungary slowed to a trickle this month after Orban closed the country's border with Croatia on Oct. 18. Austria overtook Croatia as the nation with most arrivals during the first two weeks of November as the number of people embarking on the journey to Europe declined.
Watch Next: What the Refugee Crisis Means for Europe's Economy
Before it's here, it's on the Bloomberg Terminal.
LEARN MORE