Sorry Not Sorry
Donald Trump Is Not Backing Down
The Republican front-runner fired back at critics of his unsubstantiated claim that "thousands of people" in New Jersey cheered when the Twin Towers fell.
By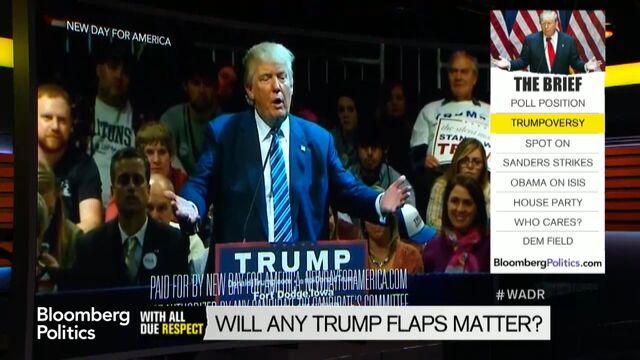 Under attack by Republican rivals and critics for comments about monitoring Muslims and the response to the Sept. 11 terrorist attacks, presidential front-runner Donald Trump didn't back down during a Monday speech in Ohio. Instead, he argued that the renewed focus on terrorism and immigration following the attacks in Paris will only make him stronger.
Trump said while rivals criticize his lack of experience and have speculated that reaction to the Nov. 13 attacks would diminish him as a candidate, his stance on stopping illegal immigration, rejecting Syrian refugees, and keeping watch lists of suspected Islamic terrorists will help him rise in the polls.
"Security and border and walls and you have to come into the country legally has morphed into ISIS because basically we want to keep that crap out of here," Trump said in a speech at the Greater Columbus Convention Center before a crowd estimated at 14,000. "I'm the guy to do it, and they know that."
Trump has had a tumultuous several days on the campaign trail, with controversies including advocating for tracking Muslims after the Paris attacks, claiming without evidence that he saw "thousands of people" in Jersey City cheering the collapse of the World Trade Center on Sept. 11, 2001, and having a fight break out at a rally in Birmingham, Alabama, involving a Black Lives Matter protester. 
In his Columbus speech, the real estate mogul defended his comments about Muslims, though he avoided using the word "databases" and talked instead about "strong surveillance" and creating lists of Syrian refugees. He read from a Sept. 18, 2001 story in the Washington Post to back up his talk about thousands of people cheering after the 9/11 terrorist attacks. "Law enforcement authorities detained and questioned a number of people who were allegedly seen celebrating the attacks and holding tailgate-style parties on rooftops" he said, quoting the article. The PolitiFact website reviewed Trump's claim and labeled it wholly false.
Trump repeated his past calls to stop "anchor babies," children born to undocumented immigrants who become American citizens, and led the crowd in chants of "build a wall." He also vowed to restore the outlawed practice of waterboarding terrorist suspects, which critics have deemed to be torture.
"Would I approve waterboarding? You bet your ass I would," Trump said. "It works."
The crowd reacted with loud cheers to most of Trump's muscular lines about protecting the homeland, including when he said of the attacks in Paris that killed 130 people, "If some of those folks carried guns, you wouldn't have this."
Trump, making his first campaign stop in the must-win swing state of Ohio, spoke only blocks from the office of rival John Kasich, the Ohio governor. Yet Trump made only a brief mention of him at the beginning of his one-hour speech when he referenced Kasich's low national poll numbers, drawing a smattering of boos.
Before the speech, Trump had tweeted: "Going to Ohio, home of one of the worst presidential candidates in history—Kasich. Can't debate, loves #ObamaCare—dummy!" Kasich's support for expanding Medicaid under President Barack Obama's health-care overhaul has come in for repeated criticism from conservatives. 
Kasich has aggressively targeted Trump in recent weeks, attacking his position on immigration and other issues and saying he lacks the experience and temperament to defeat expected Democratic nominee Hillary Clinton and be an effective commander-in-chief.
Before the speech, Kasich's campaign held a conference call with Ohio supporters blasting Trump, and a press event with Ohio veterans including Thomas Moe, who spent five years in the infamous Hanoi Hilton in Vietnam with U.S. Senator John McCain. Trump said in July that McCain was a war hero only because he was captured.
"Can we expect to draw together as a nation and face the increasing threats against our livelihood, against our fundamental freedoms, when a leading candidate for president sows hate and discord against anyone who simply disagrees with him?" Moe asked at the event. "I say enough is enough."
The super-PAC supporting Kasich is running an ad in New Hampshire as part of a $2.5 million campaign questioning Trump's ability to deal with international crises such as the Paris attacks. A new "guerilla campaign" called Trump Card LLC run by a former Republican operative also is forming to target Trump, the Wall Street Journal reported Friday.
Trump shrugged off such efforts, saying he'll prevail because he'll be the best candidate on trade, the economy and now terrorism.
"We're going to be safe, and we're going to help the world," he told the crowd in Columbus.
People began lining up hours before the doors to the event opened. Tim Miller, his wife, Cheryl, and their 15-year-old daughter Michaela, sporting a "Make America Great Again" hat, drove two hours from Grafton, Ohio, and stood in line to see Trump and "be part of something great," as Cheryl Miller, 53, put it.
The Millers, who said they typically vote Republican, said they don't care that Trump has made false or misleading statements and is under attack by Kasich and other establishment Republicans for lacking foreign policy or political experience.
"How's that worked out for us?" asked Tim Miller, 56, a restaurant owner. "This country is ready for a non-politician to straighten this country out."