Defaults Shake Indifference to Risk in Overheated China Bonds
Bloomberg News
Credit spreads widen most since June from seven-year low

43 companies have scrapped or delayed sales this month
China's corporate bond costs are rising, sales are being pulled and defaults are piling up. For many in the market, those are healthy signs.
This month's reversal is cooling concern highlighted in a Bloomberg survey that the debt market is "overheating." While the extra yield on AA- rated corporate notes over the sovereign is on track to jump the most since June this month, it is rising from a seven-year low. A total of 43 Chinese companies scrapped or delayed 46.7 billion yuan ($7.3 billion) of bond sales this month. That won't make much of a dent on record issuance of 6.7 trillion yuan this year.
"We expect the deep-rooted indifference to credit risk to change given rising defaults and we expect the premium on risky bonds to rise further," said Deng Haiqing, an economist at JZ Securities Co. in Beijing.
China Shanshui Cement Group Ltd. became at least the sixth company to default on yuan-denominated domestic notes this year amid the worst economic slowdown in a quarter century. State-owned steel trader Sinosteel Co. postponed a bond payment for a second time last week and coal miner Heilongjiang LongMay Mining Holding Group Co. needed a local government bailout. While the debt burden has been eased by six central bank interest-rate cuts in 12 months, investors say it's important that yields adjust to the higher non-payment risks.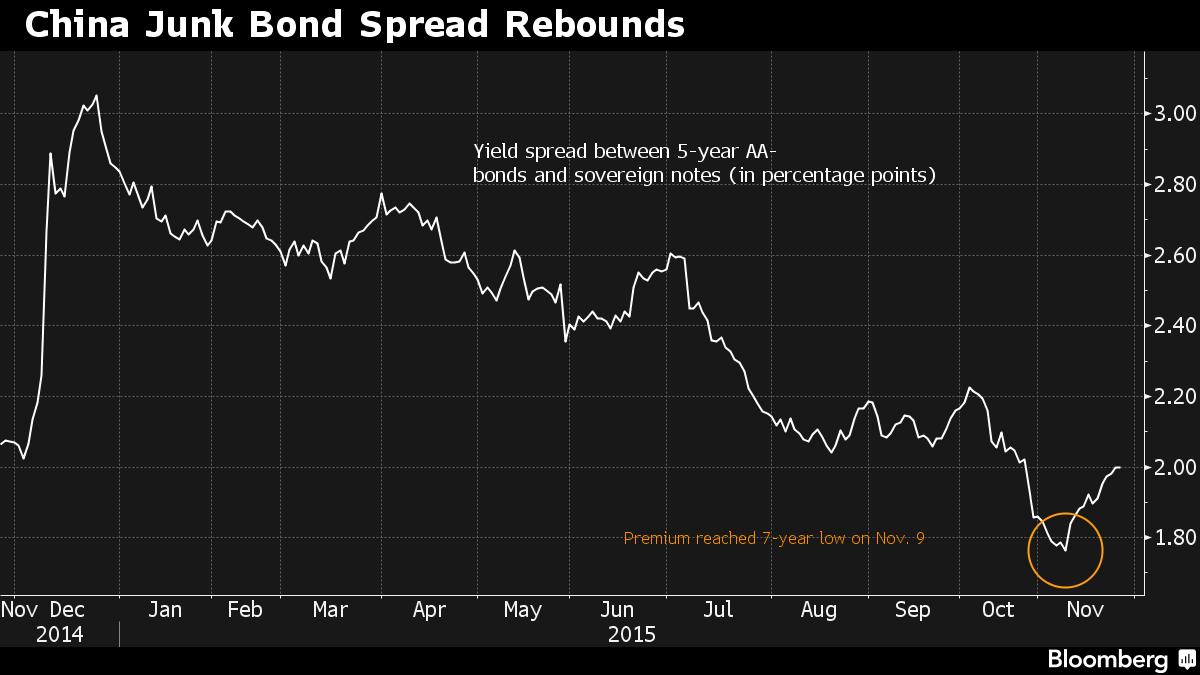 "The market needs to take a breather," said Chia Woon Khien, a senior portfolio manager in Singapore at Nikko Asset Management Asia Ltd., which was granted a 1 billion yuan quota to buy yuan securities with offshore yuan last year. "The spread widening is due to the rising default trend and not a monetary policy tightening move, so I don't see the trouble spreading to the entire curve."
The yield premium for five-year AA- bonds, considered junk in China, over similar-maturity government debentures has risen 13.9 basis points in November, on track for the biggest monthly jump since June. The gap reached a seven-year low of 176 basis points earlier this month before rising defaults and a recovery in demand for equities pushed it to 199.8 on Nov. 24. The yield spread for the highest-quality corporate notes has also climbed the most since June, rising 11.9 basis points to 92.
'Main Themes'
Among the 43 issuers that canceled sales in November, about 65 percent are rated AA or lower, according to data compiled by Bloomberg. Thirteen issuers are in the coal, steel or cement industry.
"Defaults will be one of the main themes in China's bond market next year and more default risk will likely be priced in," said Ji Weijie, a bond analyst at China Securities Co. in Beijing. "Plus reforms for zombie companies will likely accelerate next year, which could result in more defaults."
China's waning consumer inflation and factory-gate deflation give the central bank room for more monetary easing. China's consumer-price index rose 1.3 percent in October from a year earlier, down from 1.6 percent in September. The producer-price index fell 5.9 percent, its 44th straight monthly decline.
"The overheated bond market is cooling down," said Tang Yue, an analyst at Industrial Securities Co. in Shanghai. "But the correction may ease if the central bank cuts interest rates or reserve ratios."
Chinese authorities will set a timetable for cleaning up "zombie companies" after studying the situation of stagnant companies that rely on government subsidies and bank loans, according to a Nov. 24 Economic Information Daily report. It also said a large amount of lending is going to such firms, while others can't obtain loans or face high financing costs.
The number of Shanghai and Shenzhen-listed companies with three common markers of distressed firms is rising. Some 220 of 2,887 companies had less cash than short-term debt, net losses and falling revenue as of June 30, up from 115 a year earlier, according to data compiled by Bloomberg. The amount of bad debt among Chinese banks rose 10 percent in the third quarter from the previous three months to 1.2 trillion yuan, about the size of New Zealand's economy.
"Allowing more defaults is part of liberalization of China's financial market," said JZ Securities' Deng. "Further differentiation in risk pricing will follow."
— With assistance by Lianting Tu, and Judy Chen
Before it's here, it's on the Bloomberg Terminal.
LEARN MORE