Christie Counts on Paris Attacks to Revive a Moribund Campaign
by
Seeking energy, he drops domestic issues for national security

New Jersey governor says campaign changed after ISIS struck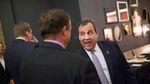 Chris Christie is betting tough national-security talk will overcome one of the biggest weaknesses facing a governor running for president -- a lack of foreign-policy experience.
During a Windham, New Hampshire, town-hall meeting Saturday, eight days after the Paris attacks by ISIS, the two-term Republican governor of New Jersey called for regime change in Iran, greater use of force and creating a security zone for people driven from their homes. He spoke for more than 20 minutes before he mentioned domestic issues that until recently were his reddest meat.
Just weeks ago, Christie's criticisms focused on entitlement programs run amok, President Barack Obama's economic shortcomings and what he called a "failed" war on drugs. Now, he warns of encrypted emails and religious extremism. Christie is betting that a campaign fought on the terrain of national security favors a former federal prosecutor who once secured convictions against terrorists plotting to kill soldiers on a New Jersey military base.
"None of it works unless we protect life, liberty and the pursuit of happiness," Christie said Saturday during the meeting at a bowling alley attended by a standing-room crowd of about 300. "Those most basic things are at risk, everybody, and the things I will defend as president of the United States every morning when I wake up."
Christie brings his plans Tuesday to a Council on Foreign Relations forum in Washington, a venue where Democratic frontrunner and former Secretary of State Hillary Clinton last week spoke on how to contend with terrorism.
America Leads, the super-PAC set up to boost his candidacy, has booked $6.9 million of ads to hit New Hampshire-area television between Nov. 16 and the Feb. 9 primary. Its latest ad highlights ISIS, with Christie accusing Obama and Clinton of making America "weaker and more vulnerable" and saying the U.S. needs "strength and authority."
After months of campaign struggles, and the exit of two other governors from the Republican race, there are glimmers of hope for Christie. CNN on Friday said he would make the main stage for the party's debate Dec. 15 after missing the feature bout Nov. 12. A RealClearPolitics average of national polls has Christie in eighth place, with 3 percent, up from 2.4 percent a month ago.
Second Look
Joel Maiola, a Republican involved in New Hampshire campaigns for George W. Bush, said he expects Christie's numbers to rise as the candidacies of Donald Trump and Ben Carson weaken.
"Timing is everything, and I think Chris Christie's timing is right for a really strong finish in New Hampshire," Maiola said. "The Carson-Trump top of the ticket is coming back down and there's going to be a void open for someone."
Florida investor Nicholas Loeb, an early Christie donor, said he's stuck with him because he's a "real person."
"You can't connect with Jeb -- he's not friendly and he's like a robot," Loeb said. "So people will leave Jeb."
Christie spent the weekend in New Hampshire, where he held two town-hall meetings Saturday and attended a house party Sunday. During the Windham meeting, Christie contrasted himself with Obama, a former U.S. senator who had no national security experience when he first occupied the Oval Office.
"We cannot afford on-the-job training," he told the crowd. "We've seen that movie and we're living it right now."
Fuzzy Memories
In recent weeks, Christie's strategy has been to attack Obama and Clinton while avoiding criticizing his fellow Republicans. During the weekend, Trump said that thousands of Muslims in Jersey City cheered when the World Trade Center was destroyed by terrorist attacks on Sept. 11, 2001, an assertion for which there is no proof. Rather than defending his constituents, Christie said only that he didn't recall any celebrations.
"I think if it had happened I would remember it, but there could be things I forget, too," Christie said in Bedford.
Walter W. Buckley Jr., founder of Buckley Muething Capital Management Co. of Bethlehem, Pennsylvania, who donated $250,000 to America Leads, said he sees Christie as "hard as nails."
"I'm dumbfounded as to why he hasn't been able to gain traction," Buckley, 79, said Nov. 13.
The Paris attacks that came hours later may give Christie another chance to attain it.
Before it's here, it's on the Bloomberg Terminal.
LEARN MORE