Carney Says Low U.K. Interest Rates to Remain `For Some Time'
by
BOE governor testifies to lawmakers on Inflation Report

Policy makers Forbes, Haldane and Vlieghe also appear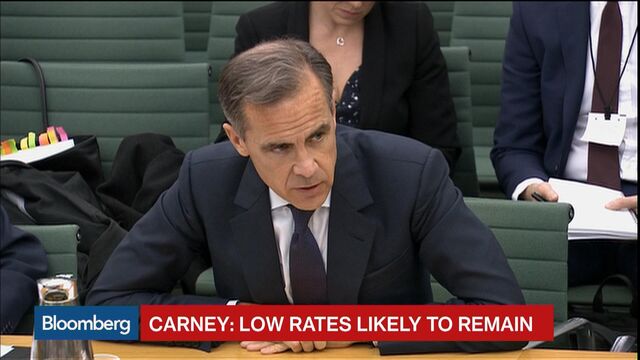 Bank of England Governor Mark Carney said policy makers are debating when to remove emergency policy settings almost seven years after benchmark borrowing costs were cut to a record-low.
"The question in my mind is when is the appropriate time for interest rates to increase," Carney told lawmakers in London on Tuesday. External Monetary Policy Committee member Kristin Forbes, speaking alongside the governor, said the next move will probably be up.
With the Federal Reserve moving toward a rate hike as soon as December, the focus is on when the U.K. central bank will follow suit. While BOE officials trimmed their growth and inflation forecasts this month and signaled Britain needs low interest rates for a while longer, the risks from emerging markets are easing and the domestic economy remains robust.
Carney also said the U.K. will have low interest rates "for some time" and the pace of tightening will be "limited." That carries certain risks, including "that there would be excessive risk-taking," he said. The markets that are most susceptible are real-estate markets, particularly housing.
Forbes' View
Chief Economist Andy Haldane and policy maker Gertjan Vlieghe also appeared alongside Carney and Forbes in Parliament. All four were among the eight-strong majority on the MPC that voted to keep the key rate at 0.5 percent in November, citing weaker global growth. In her testimony, Forbes said the tightening labor market and rising pay pressures will mean borrowing costs will need to rise "sooner rather than later."
Still, wage costs have not yet increased sufficiently to convince her that inflation is going back to target quickly enough to warrant tightening now, she said.
'Neutral Stance'
Haldane took a more dovish position in his annual report to lawmakers, which was also published Tuesday. While he said he has a "neutral stance" on the outlook for monetary policy, he warned the balance of risks around growth and inflation are "skewed materially to the downside," more so than policy makers' central forecast.
"There are of course also risks to the upside, but I consider these to be both more modest in scale and somewhat easier to cope with should they occur," he said. "Policy needs to be poised to move in either direction."
In terms of financial-stability risks stemming from low interest rates, Haldane said he did not see the U.K. housing market "racing away."
One of the key factors for policy is productivity growth, which has been weak since the financial crisis. Carney said productivity growth "could well be higher than we have assumed," which would imply "a bit more slack in the economy."
Vlieghe said he shared the governor's view.
"We have recently seen an improvement in productivity growth," he said. "By and large we expect that improvement to be maintained and we might even over the next few years see some upside risk."
Forward contracts based on the sterling overnight index average aren't fully pricing in a rate increase until after January 2017, even after the unemployment rate reached a seven-year low in the third quarter.
Vlieghe said that before the MPC moves, it's a "possibility" that the Financial Policy Committee could decide to raise the countercyclical-capital buffer for banks. The FPC will release its quarterly policy announcement alongside the results of the BOE's latest annual bank stress tests on Dec. 1.
Before it's here, it's on the Bloomberg Terminal.
LEARN MORE